Elon Musk has completed his acquisition of Twitter. Among his first actions as the owner of the company was to fire the managers. Musk initiated a cleanup of Twitter's top brass, with the CEO, CFO, and Legal Head all sacked on his first day at the helm.
Elon Musk claims that he wants to make Twitter a less restrictive platform. He also plans to solve the bots issue that is plaguing the social media platform. Musk also claims that he will make Twitter open-source and publicly reveal its algorithm. Reports also highlight that Tesla engineers are taking a look at the Twitter source code. Some reports reveal that Twitter employees were locked out of their codebase and were unable to make any changes to it.
According to CNBC, not all employees seem "enthusiastic" about Elon Musk. This is after a leaked report revealed his intentions to lay off up to 75% of the staff. The workers drafted a letter demanding "fair treatment" from the new management.
Musk offered the Twitter board $44 billion, a take-it-or-leave-it offer. Initially, the board decided to leave it, creating a "poison pill" provision, effectively preventing Musk's forcible takeover of the company. However, after a couple of weeks, the board changed its mind and decided to take the deal.
Binance CEO Changpeng Zhao had announced that the exchange is backing the acquisition of Twitter by Elon Musk. The company stated that it would commit $500 million towards the move to acquire the social media giant. Binance becomes the first crypto company to contribute to this deal.
"We're excited to be able to help Elon realise a new vision for Twitter. We aim to play a role in bringing social media and Web3 together to broaden the use and adoption of crypto and blockchain technology," Changpeng Zhao added.
Earlier this week, one sign of the acquisition was a call with banks including Morgan Stanley, Bank of America and Barclays. Each bank pledged $2.5 billion in loans for Musk's acquisition.
In total, Musk's seven banking partners pledged about $13 billion. Other investors backing Musk include the Qatar Investment Authority and venture capital firm Sequoia Capital.
Ethereum continues its rally
MeanwhileEthereum started a decent increase above the $1,450 and $1,500 resistance levels. ETH even cleared the $1,550 level and settled above the 100 hourly simple moving average. The price traded close to the $1,600 resistance zone. A high was formed near $1,593 before there was a downside correction. There was a drop below the $1,550 level.
It is now trading above $1,450 and the100 hourly simple moving average. There is also a major bearish trend line forming with resistance near $1,540 on the hourly chart of ETH/USD.
Add ETH to your portfolio.Buy Ethereum with zero fee for the first purchasein Choise.com App oropen an interest account in ETH.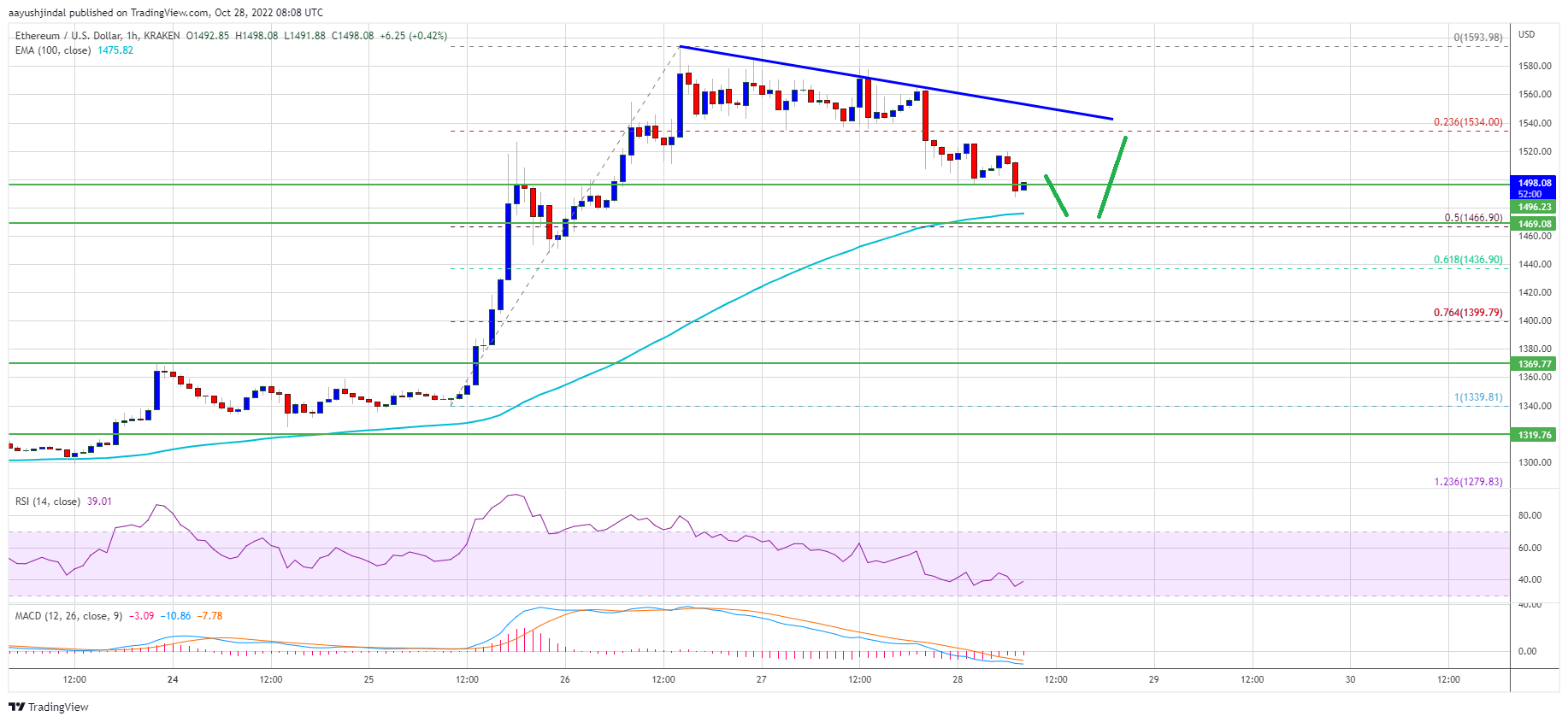 Source:ETHUSD on TradingView.com
Technicals
Hourly MACD for ETH/USD is gaining momentum in the bearish zone
Hourly RSI is below the 50 level
Support Levels – $1,465, $1,450, $1,400
Resistance Levels– $1,540, $1,550, $1,560, $1,600, $1,720
Follow Choise.com on CoinMarketCapto stay updated.