According to a mining metrics company Braiins Insights, the Bitcoin mining hash rate peaked at 258 exahashes per second (EH/s) on October 4, 2022. Although the BTC/USD price lost 58% year-to-date, the mining hash rate is up 43%.
"The hash rate hitting another all-time high shows that miners are bullish about the future prospects of Bitcoin," said Bitcoin Gandalf from the marketing team at Braiins. Nonetheless, the current macroeconomic environment could pose an issue as "the present isn't so rosy for Bitcoin miners," he said, adding: "Bitcoin continues to trade in this tight band between $19,000–$20,000 and this recent increase in hash rate will result in a sharp upward adjustment in mining difficulty meaning that miner margins will be further squeezed."
As noted by Cointelegraph, in a series of tweets, mining engineers and hobbyists shared their thoughts regarding the hash rate hitting all-time highs while the price remains low.
"I'm really proud of all of my mining friends, things are going great". Rob W, of Bitcoin mining company Upstream Data.
Market analyst Zack Voell explained that the surging hash rate could be as a result of "XPs coming online." The S19 XP Antminer is the latest model from Bitmain, one of world's most popular Bitcoin mining hardware suppliers.
"With hash rate pushing to new all-time-highs once again, despite all the promises to the contrary, it appears that #itcoin is still not dead." James Check, an analyst at Glassnode.
To sum up, despite the fact that the Bitcoin price marks a prolongued stay under $20,000, more and more miners find value in supporting the network.
Bitcoin price analysis
Bitcoin seems to fix above the $19,000 level having also demonstrated a move above the $19,500 resistance into a short-term positive zone.
BTC is now trading above $19,400 and the 100 hourly simple moving average. There is also a key bullish trend line forming with support near $19,450 on the hourly chart of the BTC/USD pair.
On the upside, an immediate resistance is near the $19,700 level, the next resistance is near the $20,000 zone. An immediate support on the downside is near the $19,400 zone.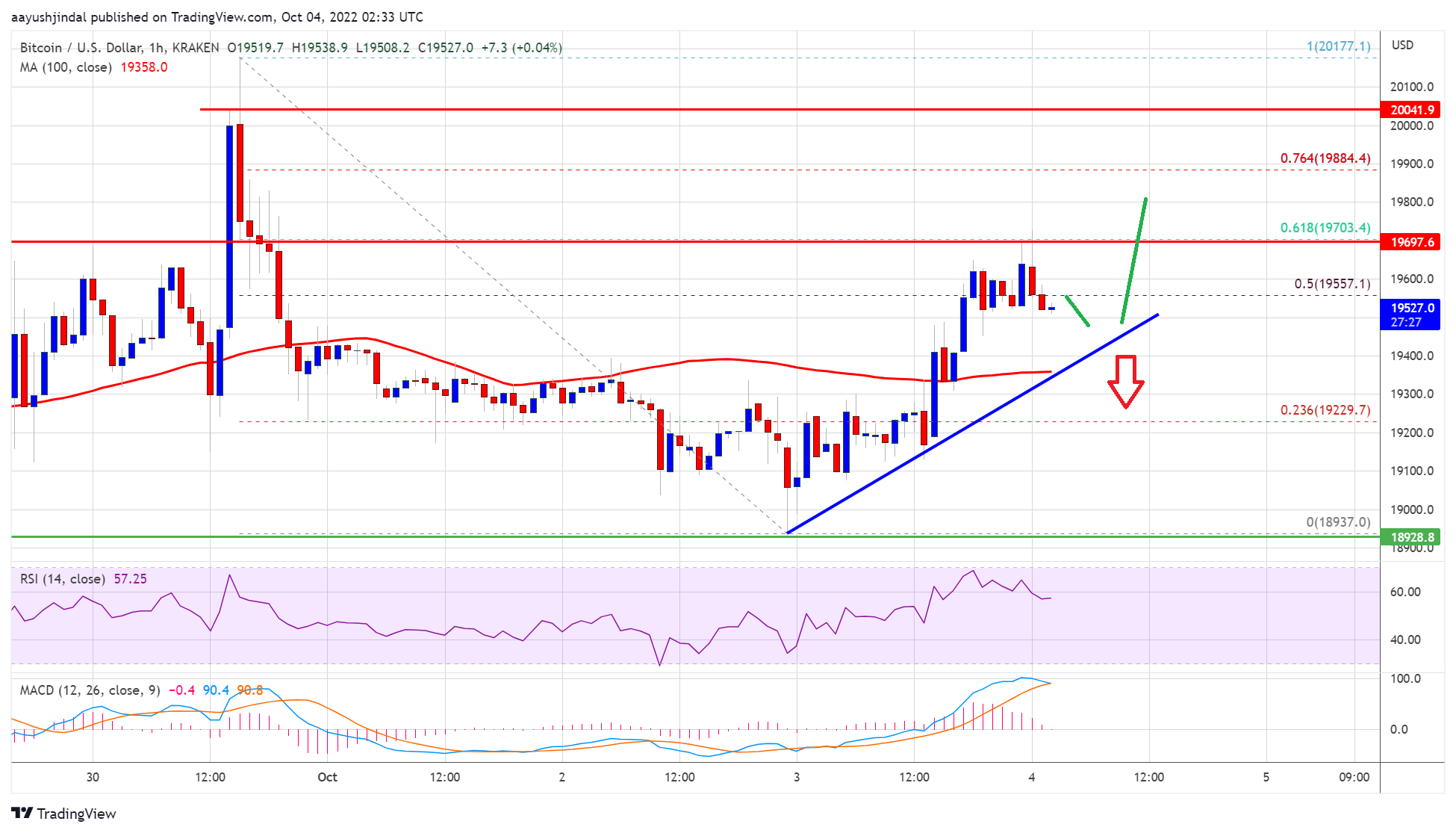 Source:BTCUSD on TradingView.com
Technicals
Hourly MACD gains pace in the bullish zone
Hourly RSI is above the 50 level
Major Support Levels – $19,400, $19,200
Major Resistance Levels – $19,700, $20,000 and $20,500
More real time crypto information — in ourTelegram Channelhttps://t.me/Choise_com_Chat