Predictions about Bitcoin's future performance have always been a popular exercise among both industry experts and ordinary investors. But the predictions have rarely turned out to be right, whether in terms of time frame or intensity.
The CEO of Morgan Creek, a company specializing in investments and asset management, is also accustomed to making predictions about Bitcoin, which have almost always turned out to be far-fetched. Like the one he made inDecember 2019, when he predicted Bitcoin reaching $100,000 by 2021 and 500,000 within ten years.
At a recent event, Yusko, who has always been one of the most optimistic about Bitcoin's future prices, pointed out that, in his opinion, the next bull run will precisely take place no earlier than 2024, coinciding with the next halving, which is the reduction of rewards expected for Bitcoin miners for their block validation work.
Initially in 2009, 50 BTC were distributed as a reward for each block mined. A reward that subsequently halved every four years. Currently, the reward for each block mined (one every 10 minutes or so) is 6.25. In 2024 it will be 3.125, and so on until the last of the intended 21 million Bitcoin is mined.
Bitcoin price analysis
Bitcoin price moved into a bearish zone with a fresh decline from well above the $20,200 level. The bears even pushed the price below the $19,500 level to trade as low as $19,249.
At the time of writing BTC shows the correction signs. There was a minor increase above the $19,400 and $19,500 levels.
On the upside, an immediate resistance is near the $19,550 level. The next major resistance sits near the $19,700 zone and the100 hourly simple moving average. If Bitcoin fails to rise above the $19,700 resistance zone, it could continue to move down. An immediate support on the downside is near the $19,400 zone.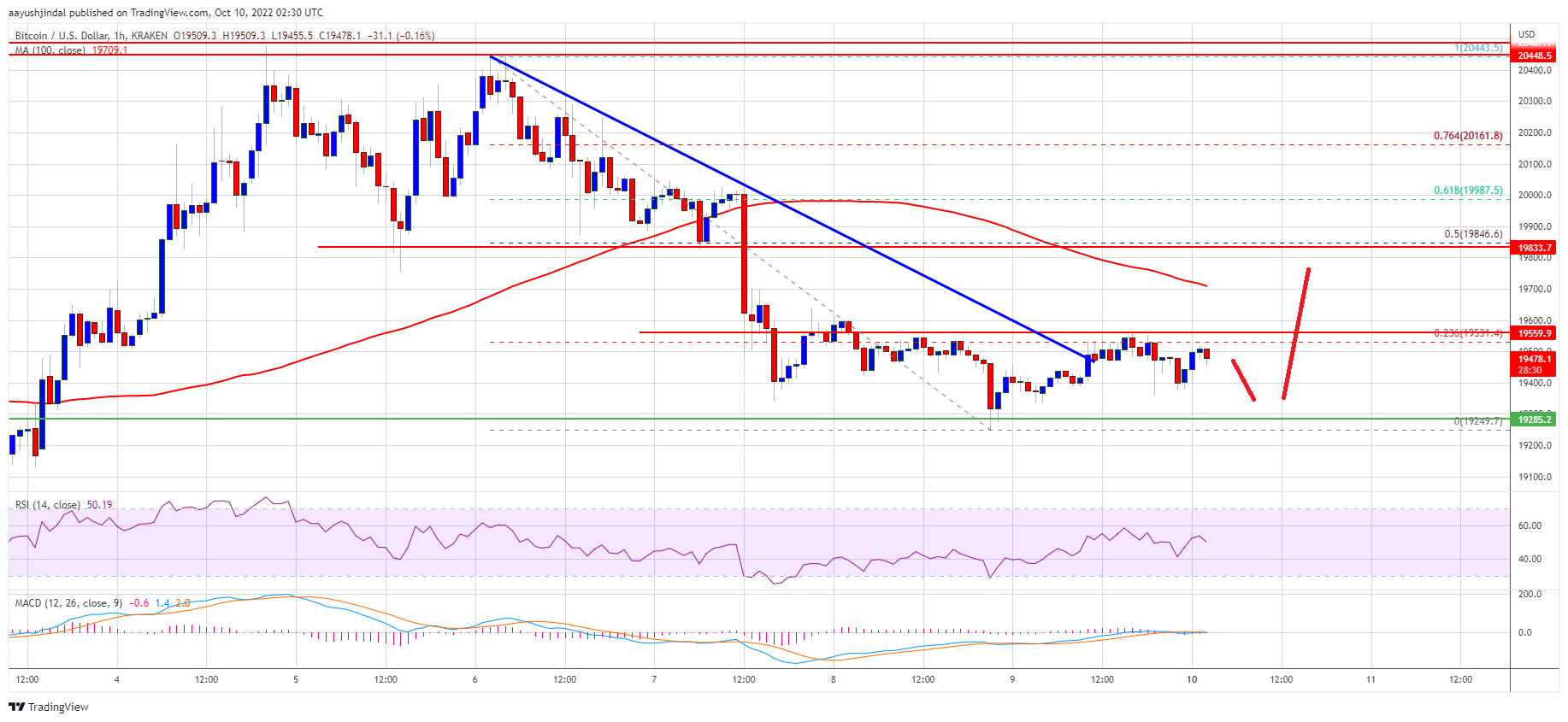 Source: BTCUSD on TradingView.com
Technicals
Hourly MACD is losing pace in the bearish zone
Hourly RSI is above the 50 level
Major Support Levels – $19,400, $19,250, $18,500
Major Resistance Levels – $19,700, $20,000, $20,500
More real time crypto information — in ourTelegram Channelhttps://t.me/Choise_com_Chat