Businessman and best-selling author of Rich Dad Poor Dad Robert Kiyosaki has called Bitcoin and metals — silver and gold a "buying opportunity" amid the US dollar strengthening and interest rate hikes.
In his Twitter the author noted: "Buying opportunity: if Fed continues raising interest rates US $ will get stronger causing gold, silver & Bitcoin prices to go lower. Buy more. When Fed pivots and drops interest rates as England just did you will smile while others cry. Take care." @theRealKiyosaki
In a post the day before, Kiyosaki predicted this "pivot" could happen on January 2023. "Will the US dollar follow English Pound Sterling? I believe it will. I believe US dollar will crash by January 2023 after Fed pivots," said Kiyosaki, adding he "will not be a victim of the F*cked Fed."
Since as early as May 2020, Kiyosaki has been a proponent for asset classes that the Fed cannot directly manipulate, having once warned investors to "Get Bitcoin and save yourself"following the Fed's immediate mass money printing episodes in response to the COVID-19 pandemic.
In a September letter to his mailed subscribers, Kiyosaki stressed the need to invest in digital assets now in order to score outsized returns over the long term: "It's not enough to want to get into crypto […] Now is the time you need to get into crypto, before the biggest economic crash in history."
Bitcoin price analysis
Bitcoin price attempted a fresh increase climbing above the 100 hourly simple moving average. The price even spiked above $20,000 resistance. However, the bears were active and forming a high near $20,177, the price started a downside correction.
There was a move below the $19,500 level and a break of a key bullish trend with support near $19,350 on the hourly chart.A low is formed near $18,937 and the price is now consolidating losses.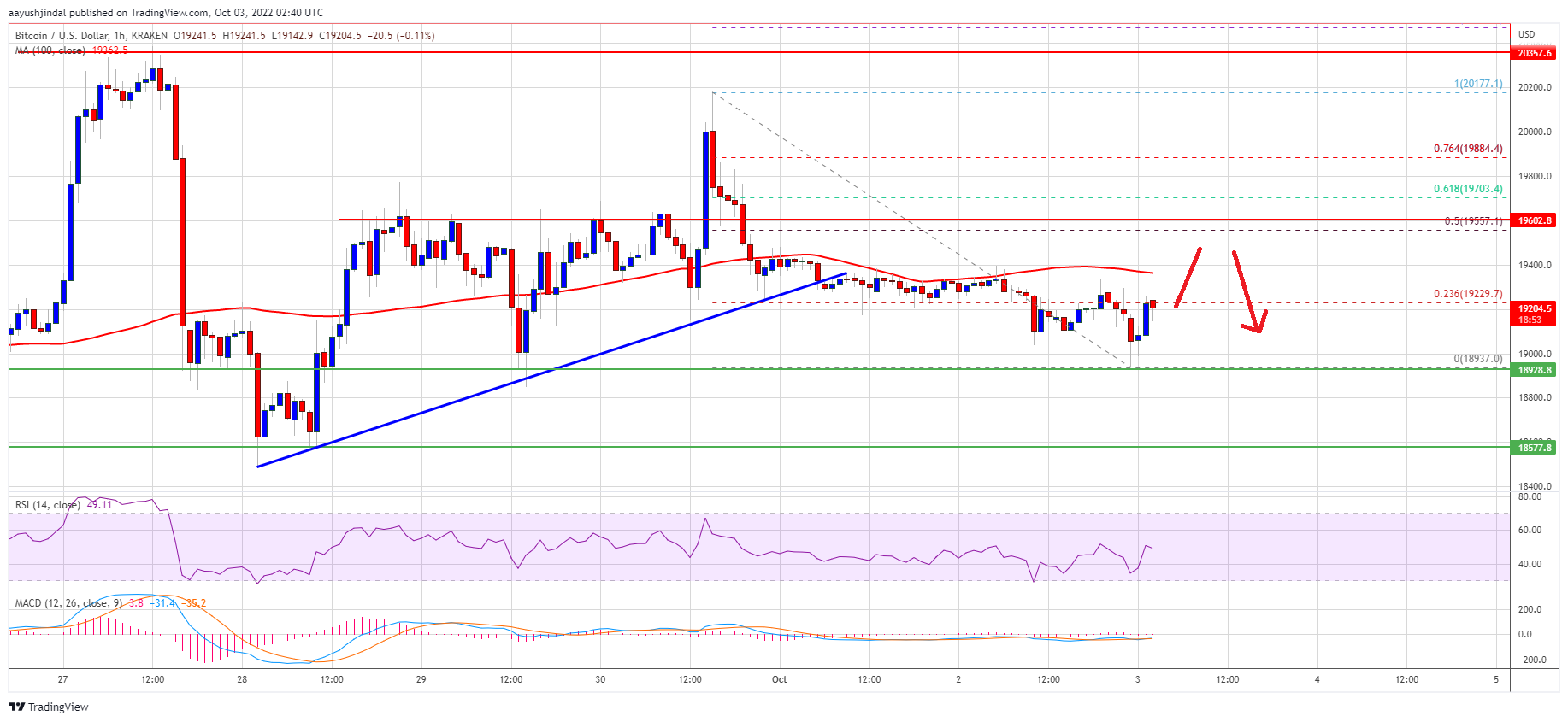 Source:BTCUSD on TradingView.com
Hourly MACD is losing pace in the bearish zone
Hourly RSI is above the 50 level
Major Support Levels – $19,000, $18,580
Major Resistance Levels – $19,560, $20,000 and $20,500
More real time crypto information — in ourTelegram Channelhttps://t.me/Choise_com_Chat