The Monetary Authority of Singapore (MAS) on Wednesday published two consultation papers proposing regulatory frameworks to reduce investors' risk in crypto trading and support stablecoins for transactions. The measures including consumer access, business conduct, and technology risks are part of the Payment Services Act. The MAS bans retail investors from using credit cards and borrowing funds for crypto trading.
In a press release on October 26, The MAS announced proposed measures to reduce crypto trading risks for retail investors and regulate the issuance of stablecoins pegged to a currency.
The MAS considers cryptocurrencies important in the digital asset ecosystem and won't ban them. Therefore, the MAS requires crypto trading providers such as crypto exchanges to ensure business conduct and adequate risk disclosure.
The crypto service providers must prohibit retail investors from using credit cards and leverage for crypto trading. Also, the service providers will handle the segregation of customers' assets and mitigate consumer complaints. On the technology risks, the MAS wants companies to maintain the high availability and recoverability of critical systems.
Furthermore, the MAS will regulate stablecoins as a medium of exchange in the digital asset ecosystem. It aims to expand the regulatory framework for stablecoins to ensure a high degree of value stability. Stablecoin issuers are also required to publish a white paper with all details such as redemption rights.
Interestingly, well-regulated and securely backed stablecoins will be preferred by the MAS. Also, banks can issue stablecoins without additional reserve backing and prudential requirements. The last date for comments on the proposals is December 21.
Ms Ho Hern Shin, Deputy Managing Director of the MAS, said: "The two sets of proposed measures mark the next milestone in enhancing Singapore's regulatory approach to foster an innovative and responsible digital asset ecosystem."
Bitcoin starts a rally
Bitcoin price started a fresh increase above the $19,650 resistance levels. It gained over 5% with a clear move above the $20,000 resistance.
During the increase, there was a move above a connecting bearish trend line forming with resistance near $19,300 on the hourly chart of the BTC/USD pair.
BTC is now is now consolidating gains above $20,000 with a high was formed near $20,400.
An immediate resistance is near the $20,300 level. There is also a key contracting triangle forming with resistance near $20,300 on the hourly chart of the BTC/USD pair.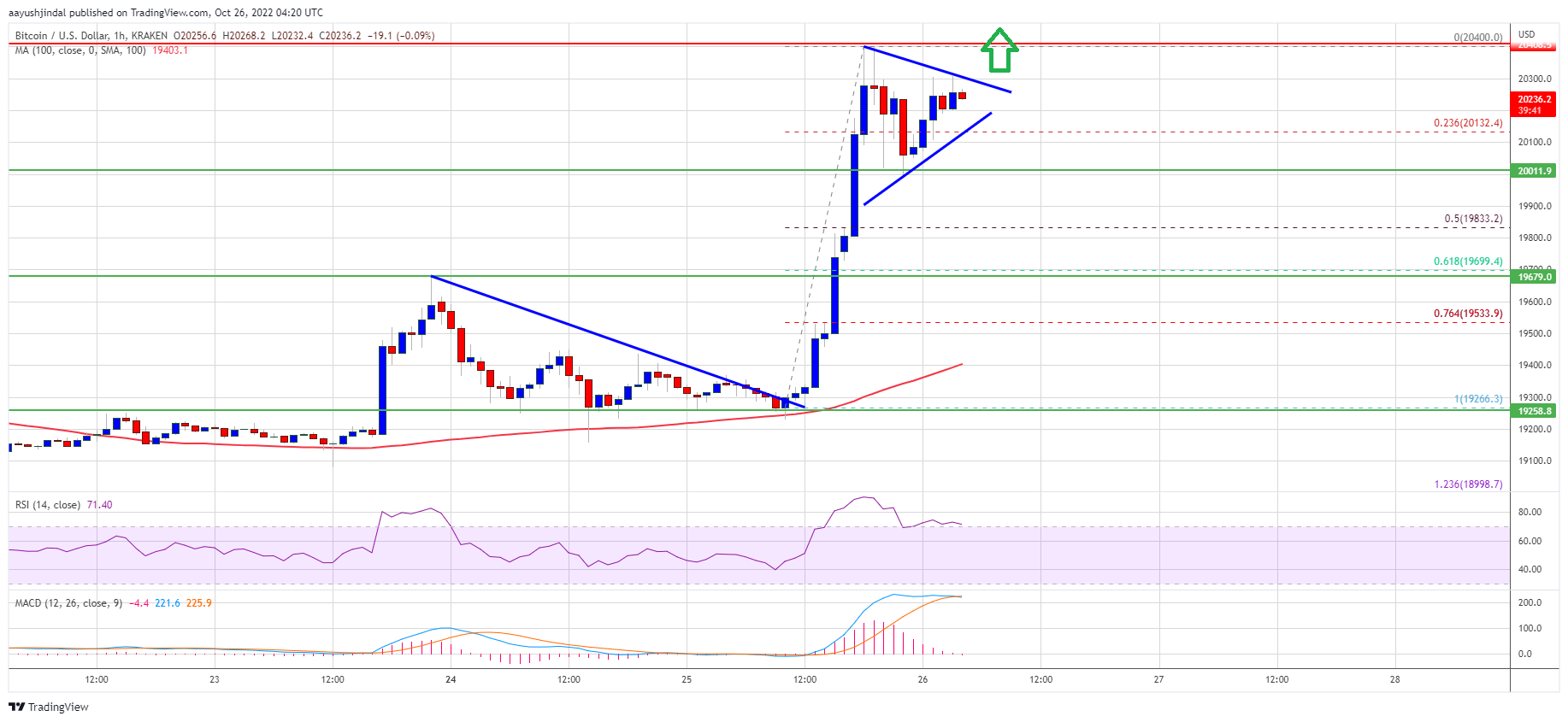 Source:BTCUSD on TradingView.com
Technicals
Hourly MACD loses pace in the bullish zone
The RSI for BTC/USD is in the overbought zone
Support Levels – $20,200, $19,800, $19,500
Resistance Levels – $20,300, $20,400, $20,500, $21,200, $22,000
Watch for BTC straight from Choise.com App. Buy Bitcoin with zero fee for the first purchase oropen an interest account in BTC.
Follow Choise.com on CoinMarketCapto stay updated.