One of the easiest and funniest ways to learn something new is by playing. Think about it. Kids do it to learn math. Teenegers do it to learn how to drive. Even pilots do it to perfect their skills. So… why not playing to learn a bit more about cryptocurrency and blockchain? Time to introduce the best blockchain games 2022.
Cryptocurrencies and tokens have taken the gaming industry by storm as they turned out to be a great incentive for gamers. After all, who wouldn't like to gain Bitcoin and other cryptocurrencies for playing games? That's what we thought.
In the list below, we've compiled the best crypto games 2022 that will keep you well entertained and potentially give you some profits. Ready? Let's get started!
1. Spells of Genesis
If you are into Role Playing Games (RPGs), then you need to try "Spells of Genesis" — one of the first Bitcoin games in the RPG category. This game seamlessly combines elements of trading cards games and old-school arcade features.
Spells of Genesis is totally free, which makes it a perfect entry point for newbies. The game is built on blockchain technology and it enables you to collect and trade orbs to develop gameplay decks and test them against others within the world of Askian.
All items and cards that you collect and win by playing Spells of Genesis are yours for real and stored on the blockchain. That's exactly what makes it an attractive game for those interested in earning Bitcoin. Those elements can be easily withdrawn and exchanged outside the game.
2. Mythereum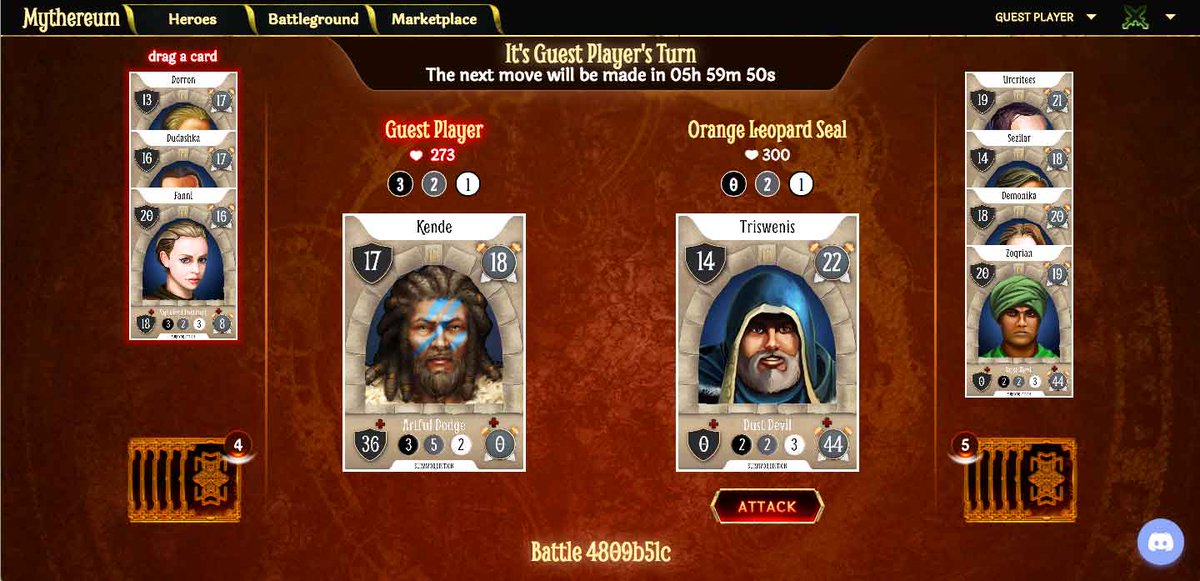 Are you up for a collectible card game? Mythereum launched in February 2018 to become the first payable trading card game based on the Ethereum blockchain.
The ultimate goal in this game is to keep your characters alive. That's why it's also known as a last-man-standing game. If you've ever played Hearthstone, The Gathering or Pokémon, you'll quickly get a sense of what this game feels like.
By default, you can start with Survivor Edition cards, which are absolutely free. Each account has a right to 30 free-to-play cards. For those who want to go all-in, there are a Genesis and Awakening card editions capped at 5,000 cards and 50,000 cards, respectively.
All cards (even the free cards) are blockchain-based game assets, meaning you can withdraw them to your Ethereum wallet at anytime. Keep in mind that free cards can only be transferred to your external wallet after completing 100 battles.
3. EOS Knight
The EOS blockchain is among the most prominent networks for the development, hosting, and execution of decentralized applications (also known as dApps). And yes, as you could expect this blockchain has its own EOS coin.
This mobile game is available for both iOS and Android devices. Although they have a Chrome extension in case you prefer the browser user experience. As the name suggests, EOS Knight is all about fighting the bad guys in different ways. The game allows you to collect and trade EOS-based items through different actions regulated on smart contracts.
4. Neon District
Blade Runner, Matrix, Final Fantasy… There's just something about the cyberpunk cult that keeps us all hooked. And yes, Neon District is the go-to cyberpunk RPG blockchain game.
A balanced mix of fighting and strategic thinking are needed to become a king of Neon District — a futuristic enclave within the refuge city of Unity. This role-playing game includes a wide range of characters you can collect as you battle through missions. Also, you'll earn gear that provides you with a stronger set of abilities and status on the battlefield.
Neon District comes in two seasons. The first one features a single-player campaign that will slowly drag you into the darkest corners of Unity. Season two is coming in mid-2022 and it's expected to focus on the deep roots of corruption in the city. To win, you'll have to find allies and actively cooperate to wipe out Unity's dirty elite.
5. 0xUniverse
If the cyberpunk world isn't for you, then you might want to try 0xUniverse — an Ethereum-based strategy game that will take you on a cosmic ride.
0xUniverse is a place to let your imagination fly. Create spaceships to explore the universe and ultimate colonize other planets. The more planets you own, the more value you accumulate.
Each planet has different resources and populations, which give unique value to your planets. Value that's only yours since it's all recorded on the Ethereum blockchain. In order to profit from your planet ownership, players can sell parts of them.
6. Forgotten Artifacts
Feeling nostalgic about dungeon crawl games? Forgotten Artifacts brings back one of the most famous types of games with a blockchain twist.
In this game you'll embark yourself in an endless adventure to find Forgotten Artifacts that will help you build a stronger profile. Each item has a limited supply, making them highly valuable collectible ERC-1155 tokens.
One of the only downsides of Forgotten Artifacts is that players are required to have an Enjin wallet — Through this wallet, players store their ERC-1155 tokens and exchange them on decentralized markets. The game is currently on a pre-alpha development stage, but the huge interest shown in the gaming community puts it in a privileged position in the rank of top blockchain games 2022.
7. MegaCryptoPolis
People are always talking about the so-called "decentralized world." But how does it actually look like? MegaCryptoPolis is a chance for you to create your own city, managing citizens, taxes and eventually selling land lots to generate profit.
This is an Ethereum game, meaning it's all based on the ETH blockchain and therefore supports ERC-721 tokens. So far, the game claims a monthly turnover of over $1 million, making it a really exciting opportunity for gamers all over the world.
At the moment, the game has registered over 10,000 Ethereum wallets. But community interest goes far beyond that, with over 3.5 million views on Youtube.
8. Gods Unchained
This trading cards game is easily comparable with Hearthstone. As a player, you would have to acquire card packs and start building a deck of unique rare cards.
As you could imagine, each card is an asset on the Ethereum blockchain in the form of an ERC-721 token. That means cards are truly yours and can be freely exchanged and sold on the secondary market. Gods Unchained has received $15 million in funding, turning it into a very promising player within the blockchain gaming community.
The game works in different modes, allowing single or multi-player format and includes competitive weekly tournaments that lead to some sizable prizes.
9. Splinterlands
A bit of Pokémon and a fair dose of Game of Thrones — Meet the Splinterlands. This one-on-one card battling game runs on the Steem blockchain. The fantasy world is divided into six kingdoms, and each of them are fighting to gain full control.
However, a prophecy says a hero will unite the Splinters against a greater enemy, one that only together they can defeat. Your goal is to become that hero and logically you'll embark yourself on a long list of missions and battles to build a super team (and fortune).
Each card is a digital collectible item stored on the blockchain, giving you full rights on it. You can buy, sell, exchange the cards anytime. One of the key setbacks of this game is that it can only be played on a web browser, which limits a lot the opportunity to game on the go.
10. Ethermon
As the name suggests, this Ethereum-based game is the Pokémon of the blockchain gaming world. A decentralized application that sends you straight to a world of monsters. Capture, train and trade these monsters to become the leader.
Ether Monsters are classified as collectible items, and ownership is recorded on the Ethereum blockchain. To get started, you can buy monsters from the game's store.
Ethermon brings together elements of augmented reality, which provides an enhanced gaming experience for players.
To profit from this particular game, players not only can sell mons, but also mine the in-game cryptocurrency EMONT — an ERC20 token capped at 20 million tokens. These tokens can be easily exchanged for Ether (ETH) or used within the Ethermon world for multiple purposes.
11. Crypto Dozer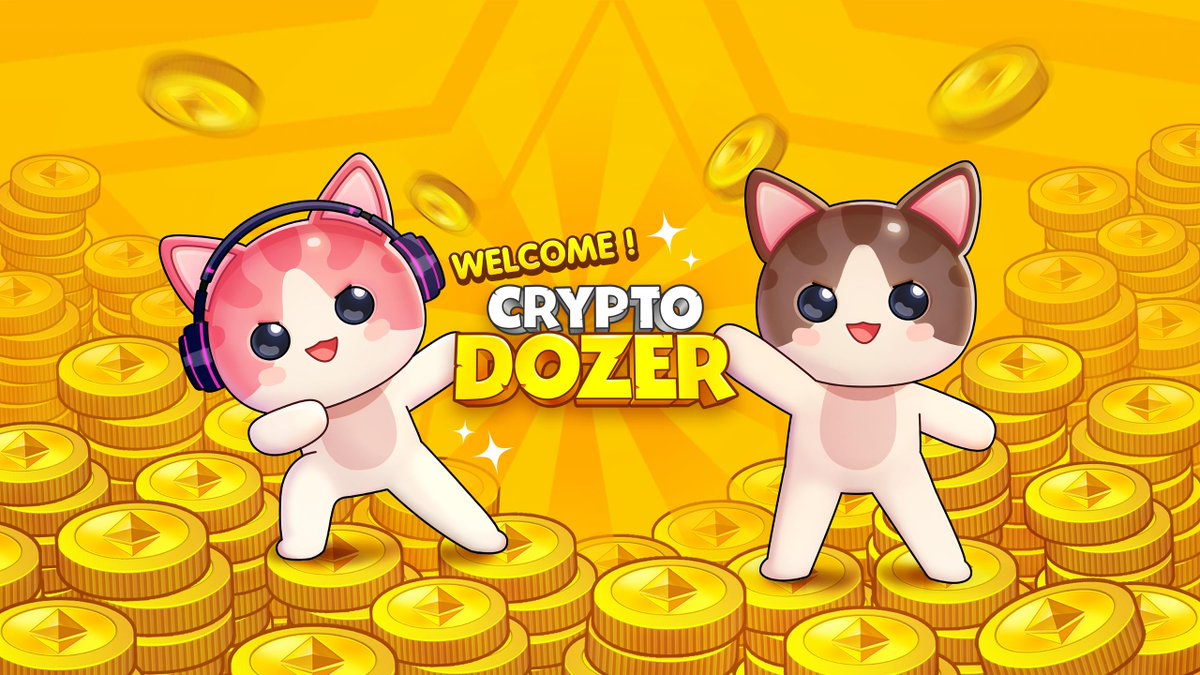 Have you ever tried a coin pusher? Well… Crypto Dozer is the arcade coin pusher of choice for the blockchain gaming world. The goal is simple: collect as many dolls as possible by dropping coins.
The dolls you get are convertible to ETH. Some of them are valued at 70 ETH!
While the interface isn't very friendly, CryptoDozer works on both PCs and mobiles. The higher you go on the ranking, the more chances to put a high-valued doll on your crypto wallet.
12. Crypto Assault
War games are one of the most popular categories in the world of traditional games. And guess what? So it is when it comes to blockchain gaming. Crypto Assault is everything you'll expect from a standard war game, but with one difference: your units are truly yours.
All units purchased and acquired in this game are ERC-721 tokens, meaning you have full rights on them. The stronger your army, the more territories you can conquer and profit afterwards. It all takes place in an enormous 3D world.
13. Blockchain Cuties
War can be tiring… Let's get cute with Blockchain Cuties. Go into adventures surrounded by puppies, cats, pandas, lizards, and plenty of other fantasy creatures.
The creates that you own are stored on the Ethereum blockchain as ERC-721 tokens. No need to say, you're free to sell and exchange these tokens anytime. You can also turn them into traditional digital currencies like ETH.
You can take each create to a high level of value by training them in battle. Apart from the Ethereum, the EOS, TRON and NEO blockchains are also compatible.
The sleek design of the Blockchain Cuties site and game, as well as a strong support team behind it have made it one of the top blockchain games 2022.
14. MLB Crypto Baseball
Who said sports and blockchain can't be mixed? MLB Crypto Baseball brings all the excitement of sports games with a technology-forward approach.
The MLB Crypto Baseball is linked to the real MLB game. Your figures have a chance to improve depending on how they perform in the real game. The better stats you get, the more valuable your team and the higher the profits you can potentially make.
15. ZED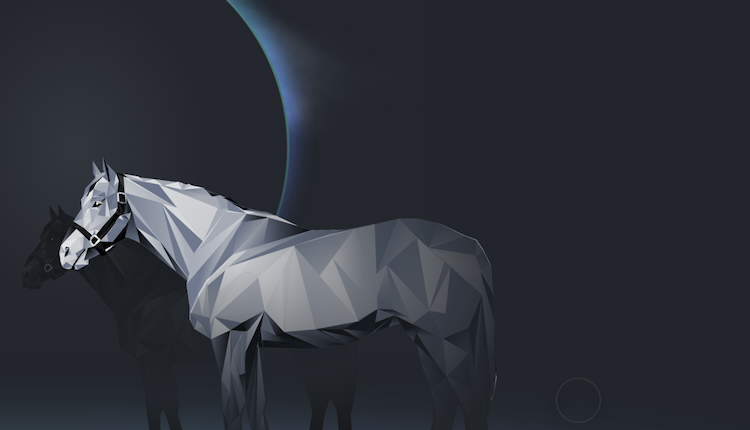 Speaking of sports… if you're into horse races, then ZED is your game to play. In this beautifully designed game, you can build strong winning racehorses. You have a chance to set a legacy by trading and breeding digital racehorses with unique bloodlines and genotypes.
As your horses win races, the stronger your legacy becomes and the greater your wealth. The blockchain structure behind this game allows you to sell horses and materialize your long term gains through an in-built auction system.
16. Lordless
Become a medieval Bounty Hunter in LordLess — a blockchain-based game that encourages you to visit taverns and earn rewards as you move from one to another. Alternatively, become a Tavern Owner and work your way up to be a Tavern Master. Taverns are ERC-721 tokens.
In order to earn rewards, you will need to complete quests. The game is 100% built on the Ethereum blockchain and runs on your web browser, but you'll need MetaMask to sign up.
Playing crypto earning games? Keep it safe!
Before you become a famous player on the crypto gaming community, make sure you are ready to store your profits.
Choise.com offers an all-in-one solution for blockchain gamers since our wallet not only supports the world's most popular cryptocurrencies, we make it easy for you to spend them on the go with the Crypterium Card. The best part? It's free and global.