Like other leading tokens, Maker (MKR) has proved time and again that it's a great alternative to gain full control over your finances. This ERC-20 token plays a vital role in the fight against government-controlled fiat currencies.
This unique token can either make you a participant in the exciting and ever evolving MarkerDao ecosystem, giving you governing rights over its sister currency — DAI. It also can be a profitable investment. Despite being a volatile asset, it has shown remarkably positive results in the past years.
If you're thinking of becoming a MKR token holder, then you're in the right place. In the next sections, we'll be looking at the best MKR wallets out there and tell you what factors to consider before making a final decision.
What is Maker (MKR)?
MKR was developed by MakerDAO — a decentralized autonomous organization aiming to generate stability for the digital asset economy. The token was released on December 17, 2017 with a total supply of 1,000,000 MKR.
The main goal of this smart contract is to keep the DAI stablecoin as close as possible to 1 USD. This token is used in multiple operations across the MakerDAO network, such as Collateralized Debt Positions (CDP), autonomous feedback protocols, and incentivizes for external participants.
To better understand the importance of the MKR token, it's necessary to get acquainted with DAI. Unlike other stablecoins on the market, the value of DAI does not depend on fiat reserves held in a bank account. MakerDAO wanted to make a stablecoin that was truly decentralized, and that's why DAI is crypto-collateralized.
DAI is created through Collateralized Debt Positions (CDP). In plain English, a CDP is a smart contract that acts pretty much like a credit line. Imagine that you have 1 ETH that you don't want to sell, but suddenly need cash. With MakerDAO's CDP, you can lock your ETH and the network will give you DAI in return. In other words, Maker uses your cryptocurrency as collateral.
As you probably know, cryptocurrencies are very volatile. And that means so is your collateral. What happens if the price of ETH crashes below the collateralization ratio (~200%)? That's where the MKR token comes into play. The MKR gives holders governing rights over Maker smart contracts, meaning they can alter the collateralization ratio to better adjust to market conditions and risk. MKR holders are rewarded with fees for their participation.
How to choose a Maker (MKR) wallet?
Regardless of the type of blockchain wallet you prefer, there are certain factors that you should never overlook when choosing a wallet. In our opinion, your best Maker MKR wallet needs to cover these areas:
Security
Knowing the Maker MKR wallet is secure is essential. If you pick a web wallet, always check if the site has HTTP or HTTPS. If the website has a secure protocol, then it should be HTTPS.
In addition, does the wallet offer secure logins? Does it have two-factor authentication (2FA)? These might sounds like very basic features, but you would be surprised by the amount of services without them.
That said, if you're new to the realm of cryptocurrencies and don't know what security features a wallet should deliver, that's where the next feature comes into play.
Support
Don't invest in a wallet that does not offer round the clock customer service. You can rest assured you'll run into time-sensitive roadblocks, and if your wallet's customer service is unreliable, then it may end up costing you.
When you get in touch with the support team, remember to ask them what security measures they have in place to make sure your money doesn't get lost. Think about it as an opportunity to test the provider's transparency.
Reviews
This is undeniably the most important area you should assess before making the final decision. To make sure the wallet is everything it claims to be, search the wallet's name on review websites, forums, and even social media. See. what your fellow holders have to say about it and what's their overall experience.
Top MKR Wallets In 2020
Before we get to the list, it's worth mentioning that there are no official wallets developed by the MakerDao team. Since the Maker MKR runs on the Ethereum blockchain, it's easy to integrate with many services that support ERC20 tokens. For that reason, you will find plenty of options to hold your investment.
Ledger Nano S
Ledger Nano S is a widely used hardware wallet created by French company Ledger. In case you've never heard of the term "hardware wallet" before, don't panic. Here's what you need to know:
Hardware wallets refer to small devices that allow you to store your cryptocurrencies offline. While that might not sound like a huge advantage, the number of cyber attacks targeting cryptocurrency owners is on the rise.
In general, the Ledger Nano S looks pretty much like typical flash drive, although it includes a tiny screen. This hardware wallet will keep your private keys offline, preventing any type of cyber threats.
This type of wallet isn't particularly user friendly. Every time you want to perform a transaction, you will need to stick it to a computer with USB access, log into the system, and only then execute your desired transaction.
Moreover, this wallet comes with a price tag attached. To get a Ledger Nano S will cost about $60, but the company offers discounts if you buy multiple products together.
Learn more aboutExodus
Trezor One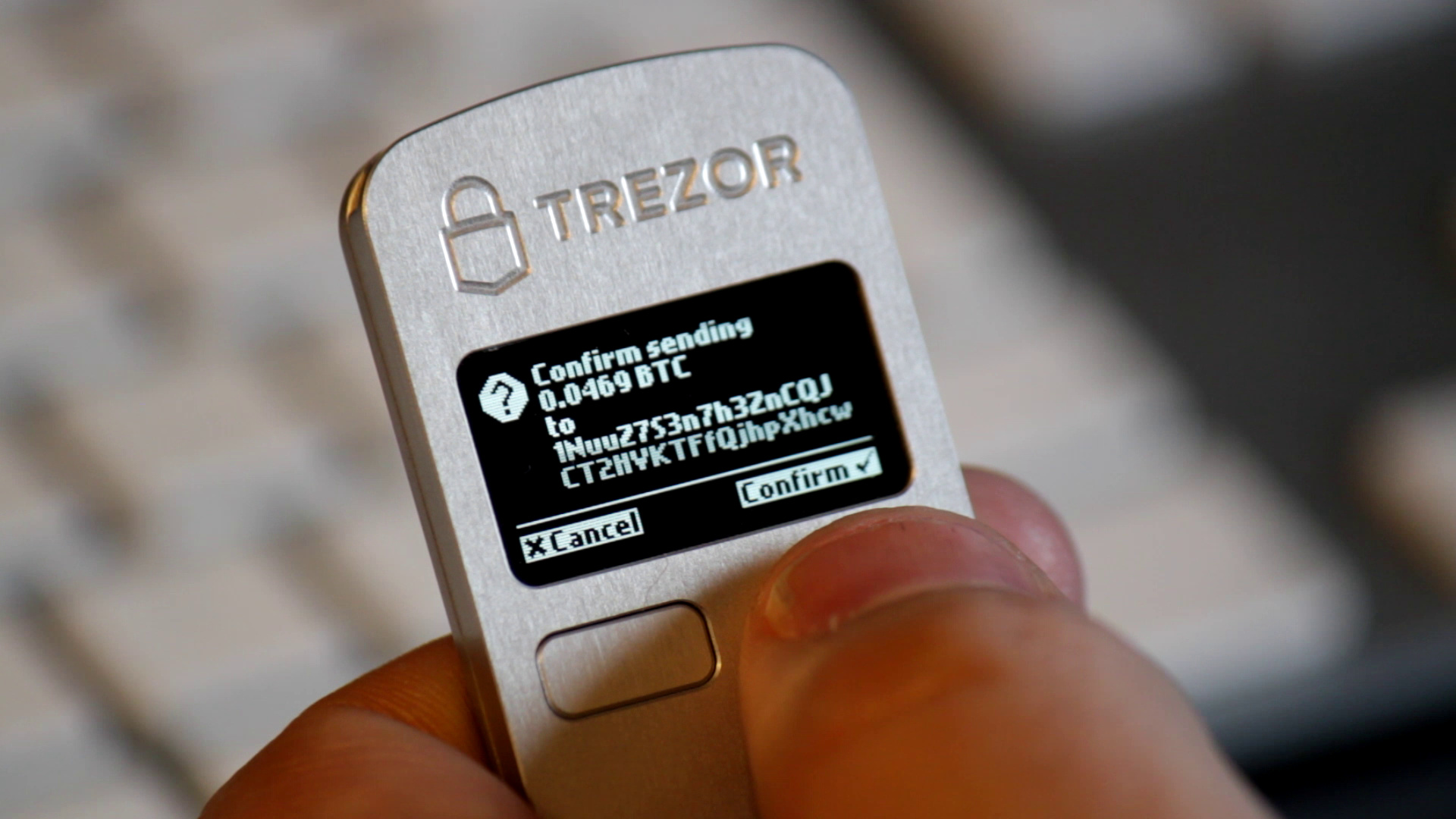 Trezor is considered Ledger's top competitor. This company is based in Prague and they have one of the most convenient and accessible hardware wallets ever. It's extremely easy to use (even for total beginners), and it comes in a sleek, minimalistic design.
The Trezor One is company's most popular product. This hardware wallet is a little cheaper than the Ledger Nano S (~$55) and it is compatible with Linux, Mac OS X, and Windows.
To use the program, all you have to do is plug it into your laptop or desktop and connect to your preferred interface. Trezor One supports Maker MKR, and another 1000+ tokens including Ripple, Ethereum, Bitcoin, and Litecoin.
If you have a bit more cash to spend, then you could opt for the Trezor Model T, which is very similar to the Trezor One but comes with a touchscreen that helps you visualize certain processes.
Learn more about Trezor One
Trust Wallet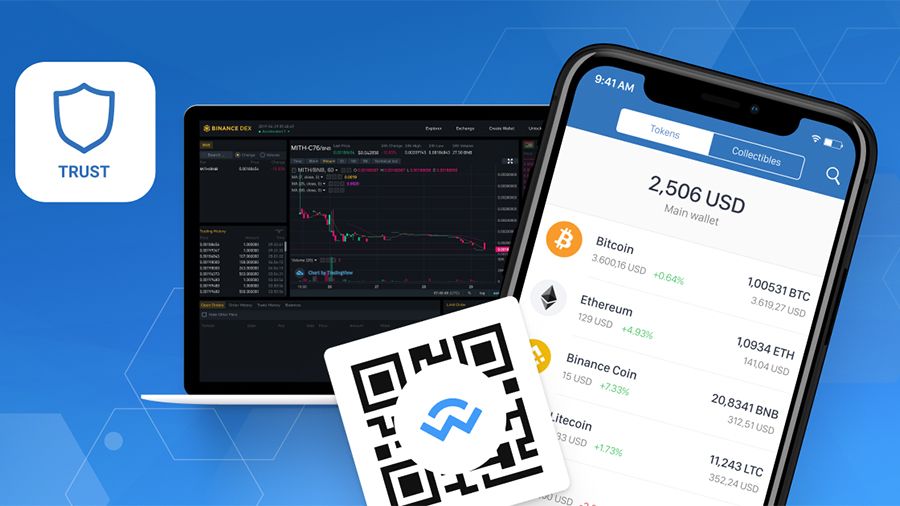 Leaving the hardware wallets behind, Trust Wallet is an increasingly popular choice for holding Maker MKR tokens. Something that really sets the Trust Wallet apart is the number of tokens available. This multi-asset digital wallet supports over 40 blockchains and 160,000+ digital assets. As you would expect, most of these coins belong to the Ethereum blockchain (ERC20 tokens + ERC721).
If you're an avid cryptocurrency trader and investor with stakes in multiple tokens, this is clearly an option to consider. Cryptocurrency exchange Binance owns the Trust Wallet, and explains the sudden popularity of this service.
Trust Wallet has an easy-to-use UI, and provides seamless and frictionless operations. Despite supporting so many tokens, this wallet only lets you earn a 7% APY on Cosmos, Tezos, and Tron tokens.
To top it off, it's an HD wallet, which means it comes with a seed back up key. This seed key will help you restore your crypto coins in case you lose your current device.
Learn more about Trust Wallet
Atomic Wallet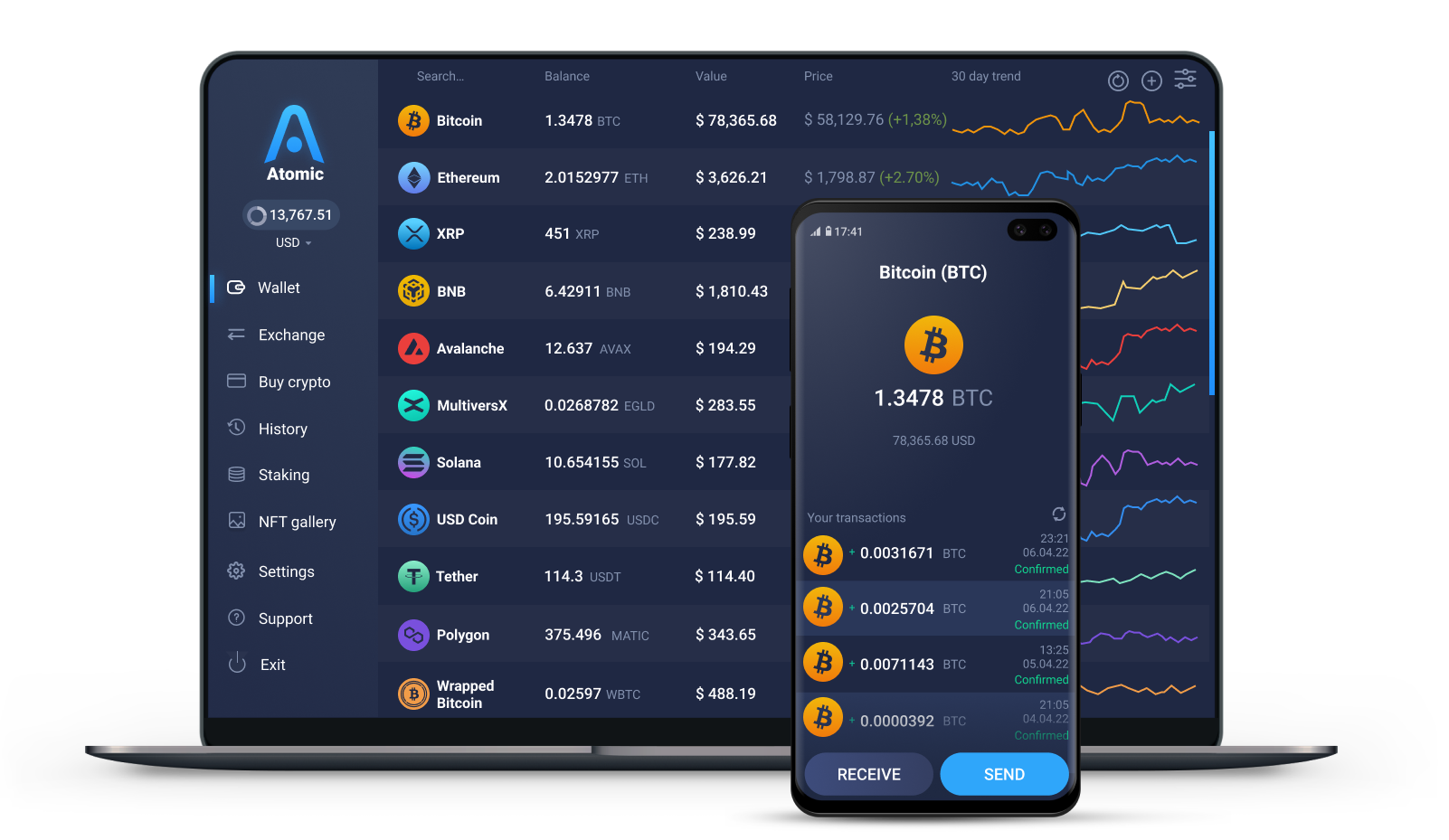 Atomic Wallet is a multi-crypto wallet currently supporting more than 300 digital tokens. Unlike the aforementioned wallets, Atomic comes in a desktop and mobile version. For traders that heavily rely on their screen, having this flexibility is certainly a big advantage.
In addition to that, Atomic Wallet offers in-built exchange services for a wide array of currencies, and all these features have been crafted in one comprehensive interface.
With the Atomic Wallet you can buy cryptocurrency as well. The wallet has integrated Simplex, and it allows you to purchase tokens with your debit or credit card. However, keep in mind that fees are high.
Learn more about Atomic Wallet
Crypterium Wallet
The Crypterium Wallet offers a different approach than the other wallets listed in this article. Instead of positioning itself as a cryptocurrency wallet, the Crypterium Wallet is an all-in-one companion to manage your digital finances. You can think of the Crypterium Wallet as a challenger bank for cryptocurrencies.
If you're looking for a wallet that allows you to do it all in a simple, intuitive way — the Crypterium Wallet is your best choice. Apart from storing and sending Maker MKR, the wallet also enables you to cash out cryptocurrencies straight to your bank card, purchase coins with the lowest fees on the market (~1%), and spend without intermediaries with a global cryptocurrency card. All services available from a single mobile app (web version available too).
When it comes to security, the Crypterium Wallet gives you peace of mind like no other. All accounts are 100% insured by BitGo. That means no matter what happens to your funds, you'll be eligible for a full compensation. Oh, and you can connect two-factor authentication to enhance your account security. Support team works 24/7 and you can reach via in-app chat to avoid scammers on external messenger platforms.
Something that differs with other options in this list is that the Crypterium Wallet does not support thousands of cryptocurrencies. This wallet only works with the world's leading projects to ensure clients keep their money invested in reliable coins.
Learn more aboutCrypterium
MyEtherWallet
MyEtherWallet is a web-based wallet, but slightly different from most of its counterparts. While a majority of online-based wallets control the storage of your private keys, this Maker MKR wallet lets you to store your keys on your desktop instead of third-party servers.
This delivers a better level of security when compared to most web wallets out there and it's the main reason why the open-source program is so popular in the cryptocurrency community. Needless to say, this also implies that you'll have to ensure you safely back up the wallet frequently.
Other features on MyEtherWallet include an in-built crypto swap and support for all ERC20 tokens.
Learn more aboutMyEtherWallet
Coinomi
This multi-currency wallet supports Maker MKR along with other 1700+ tokens. In a similar fashion than Atomic Wallet, Coinomi comes in two versions: a mobile app for Android and iOS devices and a desktop version that supports Linux, Windows, and MacOS.
Since it's an HD Wallet, Coinommi provides easy backups and solid security features. It'll also allow you to retain the ownership of all your private keys, which don't ever leave your mobile, and no know your customer (KYC) requirements when signing up. The latter allows you to protect your identity.However, if you want to purchase cryptocurrency, you'll need to verify your identity. The crypto purchase service is provided by Simplex.
Learn more aboutCoinomi
Exodus
Exodus is one of the newest desktop wallets. The thing that sets it apart from most wallets is the fact it's extremely intuitive and very easy to use. Even beginners can execute transactions in just a few clicks.
Being a pure desktop wallet, Exodus supports Linux, Mac OS, and Windows platforms. You'll have to download the wallet and install it directly into your computer.However, the company has recently launched its own mobile version. That improves your experience as you don't have to stay behind the screen all day to manage your digital assets.
Exodus also comes with an in-built shapeshift exchange that allows its users to trade between Maker and other altcoins inside the wallet itself. The program will clearly show you the coins you're going to receive after the trade both in fiat and crypto values as well as the spread of the transaction.
Though the wallet supported around 40 cryptocurrencies initially, that number has gone up to almost 100 cryptocurrencies, including major ones like Maker, Bitcoin, Litecoin, and Ethereum.
Learn more aboutExodus
Conclusion
We hope this detailed guide on the different Maker MKR wallets (including desktop, hardware, and software wallets) will help you make the right choice for yourself. Just remember that all wallets are different and have their unique features – so what may be perfect for someone else might not suit you.