With cryptocurrency prices slowly recovering, those who were watching the industry from a distance without taking part are ready to jump on the bandwagon and invest their hard-earned dollars. And with large firms like Telegram and Facebook joining the industry, an even bigger user base is likely just around the corner.
That said, if you're interested in joining the race, remember that the cryptocurrency market is a highly complex and very volatile environment that is continuously changing.
With that reality in mind, the best way to stay profitable is to be on a constant lookout for new investment opportunities. In other words, you must stay on top of the game, taking advantage of even the slightest price changes (or hints they may change in the future).
In this article, we'll introduce some of the world's top cryptocurrency price trackers to help you get the best Bitcoin charts out there.
What is a Cryptocurrency Price Tracker?
As its name suggests, a cryptocurrency price tracker is an application specially designed to allow its users to track the price action of the coins in their investment portfolios.
Commonly known as portfolio tracking services, these programs will also allow you to track everything regarding the crypto coin you're interested in, from the growth or drop of its market cap to its daily trading volumes.
As a rule of thumb, keeping up with current cryptocurrency developments in real-time can result in significant profits, while ignoring them altogether can only lead to missed opportunities and bad investing decisions.
Top Bitcoin Crypto Price Trackers
Without further ado, here are the best-rated cryptocurrency price trackers in the market today.
#1 — TradingView
Thanks to its wide array of technical indicators and cryptocurrency pairs, TradingView is the most well-known and widely used price tracker and social network for traders and investors.
The platform was launched in September 2011, making it one of the oldest charting platforms for cryptocurrencies like bitcoin.
You can also use the platform to track financial markets outside the crypto sector, too – which comes in handy as it allows you to analyze trading ideas for companies that have exposure to BTC and other cryptocurrencies, such as NVidia or AMD.
What's more? If you're just getting started in the realm of cryptocurrencies, you can begin with TradingView for free until you're confident to invest in pro and premium subscriptions.
#2 — Blockfolio
Along with TradingView, Blockfolio is a leading crypto portfolio management tool in the industry. This application's design is extremely intuitive, even though it does not have a web client that you can access using your laptop or desktop computer.
Another slight downside to this portal is the fact it does not come with an exchange sync option. Simply put, this means that you'll have to add individual trades manually to the application's interface.
Other than, Blockfolio offers its 5 million registered users the ability to track several portfolios at the same time – and completely free of charge. Better yet, the application is highly customizable and will even allow you to pick between a day (white) and night (dark) user interface.
Something that certainly sets Blockfolio apart is Blockfolio Signal — a direct feed from the teams behind the coins of interest. For example, you can access CRPT-related announcements straightBlockfolio Signal.
#3 — Coinmarketcap
Based out of Delaware, Coinmarketcap boasts many neat features that make it a must-have for crypto traders. For starters, you can view the total market cap of all crypto coins, while at the same time tracking the circulation supply of each, including price changes and total supply.
Coinmarketcap also picks which coins it includes on the list, and getting listed on their platform is a big deal if your goal is to launch a new crypto project. At the moment, the platform actively tracks more than 5000 cryptocurrencies.
#4 — CryptoCompare
CryptoCompare was first launched in early 2014 under the name CryptoCoinComparison. But after a long development phase intended to make it a world-class platform for tracking prices and portfolios, it re-launched in mid-2015 under the name CryptoCompare.
Since then, this platform has become a reliable go-to website when traders want to track crypto pricing or monitor other market variables, such as market cap, supply, volume, etc.
CryptoCompare also offers a free beta version platform you can use for portfolio management and other features, including wallet reviews, exchange volume analysis, crypto forums, exchange reviews, and even coin mining analysis.
#5 — Coinigy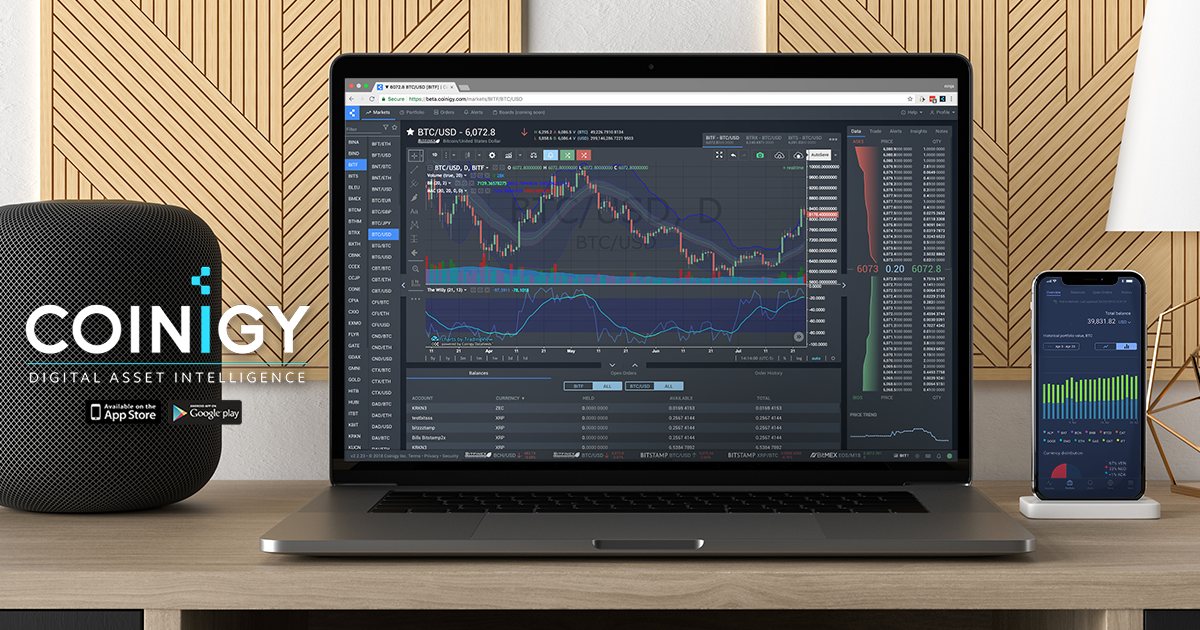 Since its inception, Coinigy has been trying to be the most "all-inclusive" crypto price tracker by supporting more pairs and exchanges than any other platforms out there.
Founded in 2014, one of Coinigy's best features is the fact you can trade directly through the platform if you've registered an account with one of its supported cryptocurrency exchanges.
Coinigy currently supports more than 45. Another benefit of using Coinigy is that it permits its users to set take profit and stop-loss orders, which you won't find in most exchanges.
#6 — Investing.com
Investing.com is an established crypto market platform providing real-time data, charts, financial tools, breaking news, quotes, and analysis across 250+ exchanges in the world.
Add to that its 47 million monthly users and more than 400 million monthly sessions, and you'll see why investing.com is considered one of the top three global sites by Alexa and SimilarWeb.
Apart from cryptocurrency pairs, you can also find fiat currency pairs, stocks, bonds, indexes, and commodities, making it a handy instrument for managing your day-to-day investment strategy.
#7 — Cryptowat.ch
This crypto price tracker is owned and operated by Kraken, a leading US-based cryptocurrency exchange launched in 2011.
Cryptowatch offers its clients both free and premium-based plans. On the platform, you will get real-time access to market data and charting services for more than 25 cryptocurrency exchanges, including, but not limited to, Huobi, Binance, Bitmex, and Kraken.
#8 — Coin360
Coin360 is a highly interactive platform that'll allow you to track market capitalizations, exchange performances, and price swings.
Coin360 also retails two essential tools; the filter and the tracker. The tracker will help you stay updated on a currency's price movements while at the same time analyzing its market capitalization and pulling individual transaction volumes in the market.
The filter, on the other hand, has a widget that'll allow you to switch from one coin or token to another seamlessly.
#9 — GoCharting
GoCharting boasts a vast range of crypto markets. Some of its cryptocurrency exchanges aren't even found on TradingView. Besides, some features you'll have to pay to access on TradingView are freely available on GoCharting.
For instance, you can view up to four charts at the same time (this comes in handy when you're analyzing different time frames), use Renko charts on all timeframes, and even access the volume profile. All these require Pro membership on TradingView.
#10 — CoinTracking
As the name suggests, CoinTracking is a price tracker and portfolio management app retailing with a large number of advanced features. That said, we should point out that CoinTracking has quite a learning curve, so its best suited for full-time crypto traders who would like to gain a more in-depth insight into their short and long term investments.
CoinTrackinng is also available on iOS as well as Android devices. But to access the application, you will need to complete a web registration first.
#11 —LiveCoinWatch
This website offers a clean user interface and lots of relevant cryptocurrency data that will help you make an educated decision while investing your hard-earned money in a certain currency.
Launched in 2017, this platform allows its registered users to effortlessly track price fluctuations and trading volumes of more than 2,000 virtual currencies. You'll also love LiveCoinWatch's aesthetically pleasing design – which displays all the data you need straightforwardly and logically.
To top it off, the site also boasts a watch list and portfolio option, both of which allow you to track the price action of a wide array of currencies and choose after how long you'd like the site's data to be refreshed.
#12 —CoinCheckUp
This crypto price tracker offers basic currency data such as trading volumes, price charts, and comprehensive analyses. The platform also provides insightful information regarding every coin's history and profitability. Such data will come in handy if you're a crypto newbie.
Most importantly, CoinCheckup also gives each coin's algorithm a rating out of five. And the team behind this feature has also posted a detailed report on the website explaining their coin scoring formula.
#13 —Koyfin
Just like TradingView, Koyfin also supports financial markets outside the crypto industry. The only main difference between the two price trackers is the fact Koyfin lacks most indicators found on TradingView.
In addition to that, the number of exchanges is also fairly low on Koyfin – with just Coinbase for BTCUSD.
Other than that, Koyfin helps you understand chart correlations between assets easily, and also allows you to view the historical price action of crypto coins as a table or a chart. Other hard to beat benefits of Koyfin include the fact it's entirely free to use and has a research portal.
Which Is The Best Crypto Charting App?
As you can tell from the list above, picking the best crypto charting app is a unique process for every trader because the applications and programs offer many different features.
That said, there are several standard factors you should always consider while picking a charting app. These include:
Safety and security
User interface
Advanced functionality
Number of listings
Affordability
Conclusion
Crypto price trackers bring a structured and calming element into the chaotic cycle of the crypto markets. So makes sure the one you pick best meets your portfolio requirements and personal preferences.