The world's largest issuer of exchange-traded funds (ETFs) BlackRock is making another big bet in the crypto space with the launch of the Metaverse ETF.
BlackRock's iShares Future Metaverse Tech and Communications ETF will seek to track companies having exposure to the Metaverse, as per the filing on Thursday, September 29. The ETF issuer has yet to reveal the fees and the ticker for the exchange-traded fund (ETF).
In a September 29 report from Finextra, product strategist for thematic and sector ETFs at BlackRock, Omar Moufti, said the ETF will "allow our clients the opportunity to engage with global companies leading the development of the emerging blockchain ecosystem," adding: "We believe digital assets and blockchain technologies are going to become increasingly relevant for our clients as use cases develop in scope, scale and complexity."
BlackRock's crypto exposure
BlackRock has been increasingly gaining exposure to cryptocurrencies over the last year. Earlier this week, BlackRock announced thelaunchof its crypto ETF in Europe. This launch comes despite the regulatory concerns in the continent.
The iShares Blockchain Technology UCITS ETF is just the extension of the blockchain ETF that BlackRock launched earlier this year in April 2022. However, the blockchain ETF from BlackRock has seen very mild response from investors. The net inflows into the fund currently stand at $6 million.
Although blackRock has been making a move into crypto, the interest in crypto ecosystem has been waning. It seems that BlackRock is currently preparing for the next led of the crypto bull run, whenever it may come.
Bitcoin price analysis
BTC price started a recovery wave from the $18,500 support zone. BTC bulls managed to push the price above the $19,000 resistance zone.
The price even climbed above the $19,500 resistance zone, but the bears were active near the $19,660 level.
Bitcoin is now consolidating above $19,100 and the 100 hourly simple moving average. There is also a key bullish trend line forming with support near $19,220 on the hourly chart of the BTC/USD pair.
On the upside, an immediate resistance is near the $19,500 level. The next major resistance sits near the $19,660 zone.
If Bitcoin fails to rise above the $19,660 resistance zone, it could start a fresh decline. An immediate support on the downside is near the $19,350 zone and the 100 hourly SMA.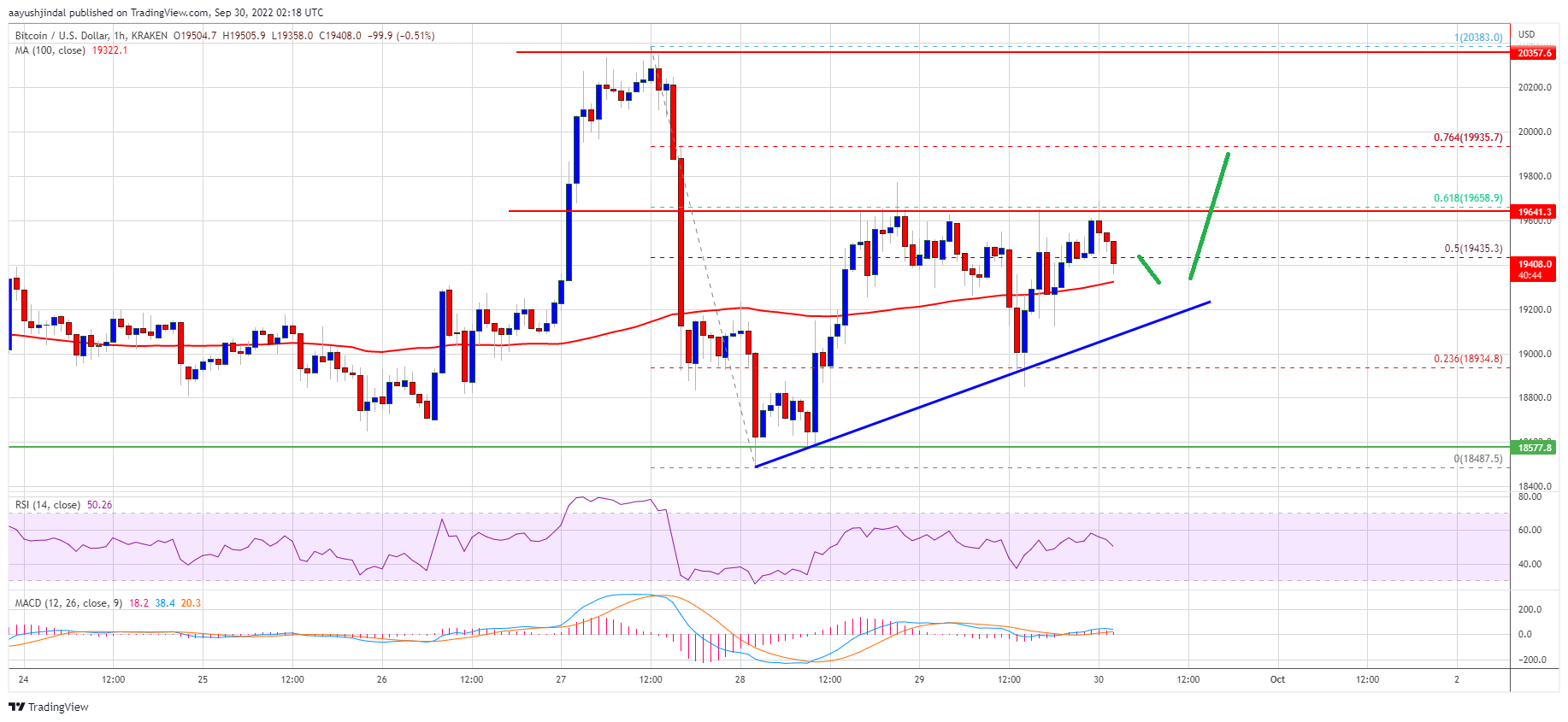 Source:BTCUSD on TradingView.com
Hourly MACD is losing pace in the bullish zone
Hourly RSI (Relative Strength Index) is above the 50 level
Major Support Levels – $19,220, $19,000
Major Resistance Levels – $19,660, $20,000, $20,500
More real time crypto information — in ourTelegram Channelhttps://t.me/Choise_com_Chat