On October 24, Bloomberg revealed the findings from its latest MLIV Pulse survey for crypto market participants.
Around half of the respondents expected the Bitcoin consolidation to continue until the end of this year but with an upper price boundary of about $25,000. Conversely, in Q2, the majority thought Bitcoin would dump to $10,000 before returning to $30,000. Neither has happened (yet).
Crypto markets have been highly correlated to risk-on assets such as tech stocks this year. Around 42% of those surveyed thought this correlation would continue over the next year, and 43% said that they would be buying more digital assets.
Legal action is a positive sign
Despite the deepening slump and gloomy regulatory outlook, 60% of the 564 survey respondents indicated they viewed the latest legal action as a positive sign for the industry and asset class.
Around 65% of retail investors said they were more likely to invest in crypto when there is greater enforcement. The number was 56% for institutional investors, suggesting that the overall sentiment for regulation is positive.
Crypto markets not moving
There has been little movement in digital asset prices to kick off this week. Total market capitalization has inched up to a seven-day high of $980 billion but failed to make further gains. The altcoin market was a mixed bag, with very little movement in either direction for the majority of tokens.
Bitcoin tries to gain momentum
Bitcoin price remained well bidabove the $18,800 level. BTC formed a base above the $19,000 level and started a fresh increase. There was a clear move above the $19,200 and $19,250 resistance levels.
There was also a break above a key bearish trend line with resistance near $19,200 on the hourly chart of the BTC/USD pair. The pair gained pace above the $19,400 level and the100 hourly simple moving average. It even broke the $19,500 resistance.
However, Bitcoin price failed to move above the $19,600 zone. A high was formed near $19,679 and there was a minor downside correction.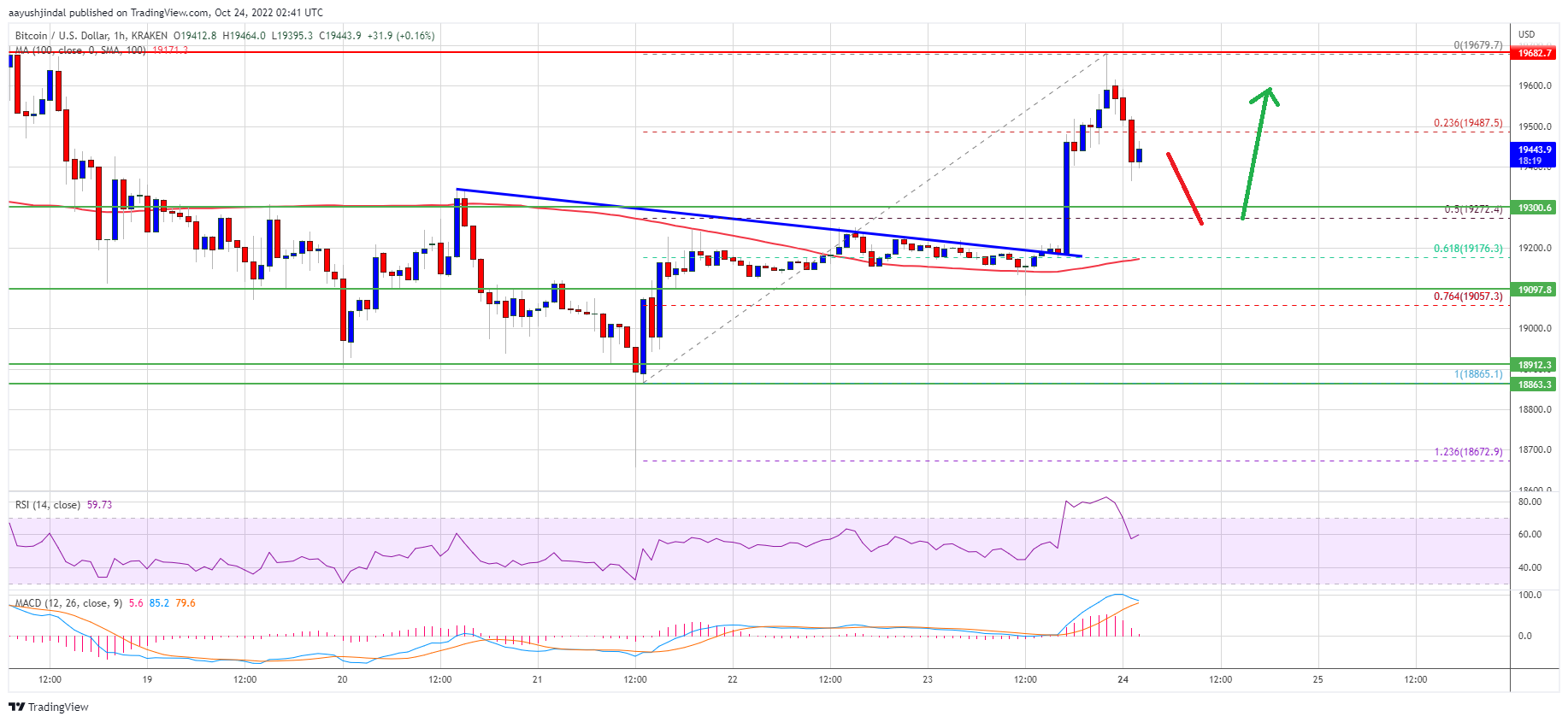 Source:BTCUSD on TradingView.com
Increase your Bitcoin holdings right now.Buy BTC with zero fee for the first purchasein Choise.com App oropen an interest account in BTCto receive interest while just HODLing.
Technicals
Hourly MACD is losing pace in the bullish zone
Hourly RSI is above the 50 level
Support Levels – $19,300, $19,250
Resistance Levels – $19,500, $19,600, $20,000
Follow Choise.com on CoinMarketCap to stay updated.