The world's second-biggestcryptocurrency has experienced a robust comeback in a short span of time, with buying activity over the U.S. market holiday bolstering prices.
But, can ETH sustain this rally?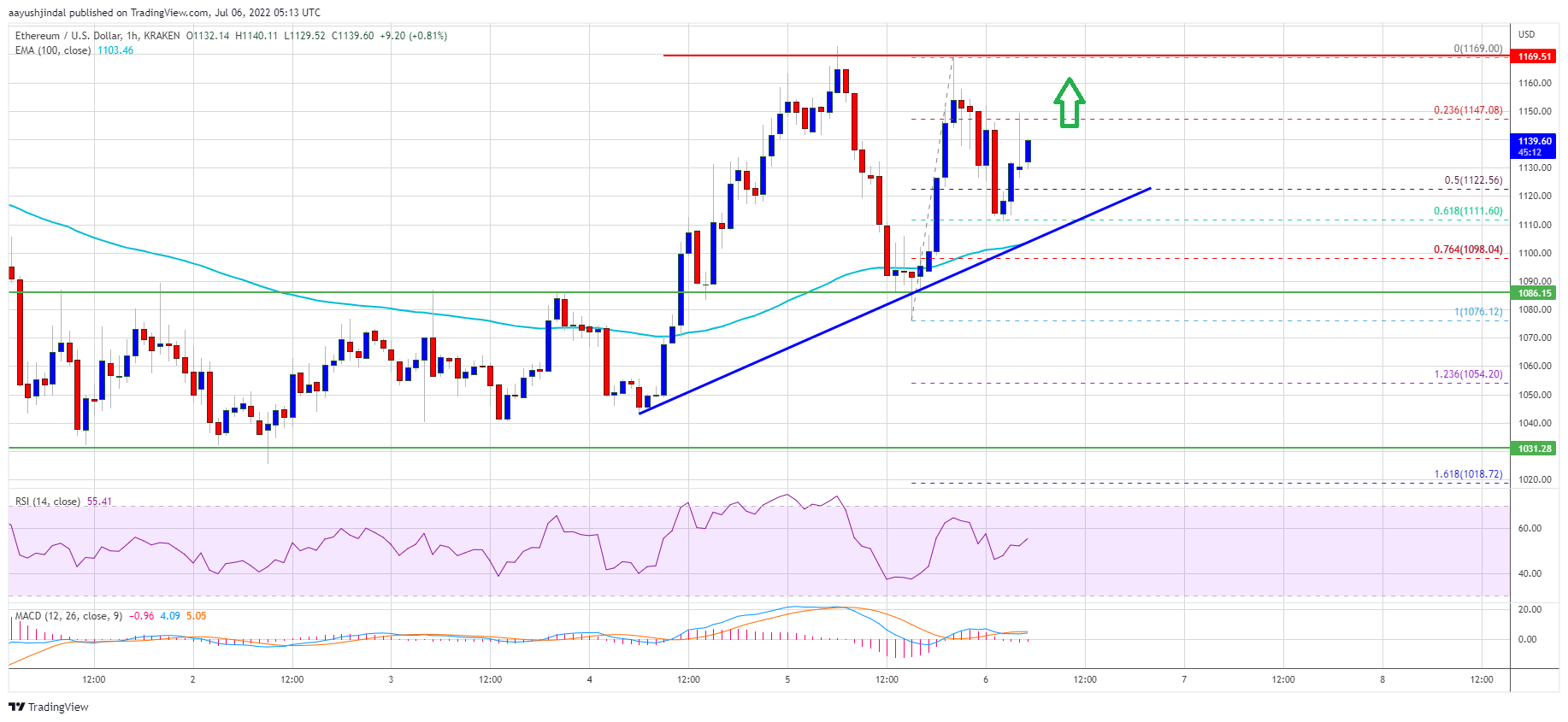 In the previous 24 hours, ETH/USD fluctuated between $1,086 and $1,165, showing high volatility. The trading volume for the pair has climbed by 32 percent to a total of $15.3 billion, while the entire market capitalization fluctuates about $132 billion.
Since the previous significant swing down at $1,000 seven days ago, the ETH price has been reversing slowly. After several days of stability, the ETH/USD pair continued to advance and blew through the prior resistance at $1,100.
On Tuesday, only tiny pauses preceded each subsequent upward push throughout the day. Overnight, the next level of resistance at $1,175 was already breached, suggesting that bullish energy is currently strong and that the intermediate-term pricing mechanism may soon begin seeinggreen again.
ETH fell below the psychological $1,000 barrier on June 30, but bears were unable to capitalize on this pullback. This indicates that bulls are purchasing dips.
Now, the bulls will attempt to push ETH over the 20-day Exponential Moving Average ($1,192) and seize control. If they do so, the ETH/USDT exchange rate might reach $1,280 and subsequently the 50-day Simple Moving Average ($1,535).
This level could serve as a formidable barrier once more. To mark the beginning of a fresh uptrend, the bulls must drive the price above $1,700.
Today's ETH price analysis is positive, as market analysts observed a significant higher high at $1,175 and a brief retracement on Wednesday.
This indicates that a strong higher high and higher low have been established, and bulls are poised for another aggressivemove higher throughout the coming week. Next objective will likely be the $1,250 resistance.