As inflation continues to ravage economies across the globe, fiat currencies start to suffer from devaluation. According to analysts, assets like Bitcoin and gold could benefit from the current situation.
Bloomberg Intelligence strategists compared BTC and gold as the end is in sight for the Fed's aggressive tightening. "Lower commodity and risk-asset prices may be the only way out with deflationary implications, which should buoy the price of gold and its digital version, Bitcoin,"commentedBloomberg Intelligence senior commodity strategist Mike McGlone.
He added that with Fed tightening nearing an endgame, "risk vs. reward may be tilting toward resuming the enduring upward trajectory in Bitcoin, notably vs. most commodities."
McGlone suggested that the nascent tech and asset sector is a top contender to outperform gold in the long term. "The Bitcoin-to-gold ratio at about 10x, which was first reached in 2017. In a world rapidly going digital, the benchmark crypto is a top competitor to old-guard gold."
Crypto vs Fiat
Another factor to consider is the current currency conundrum as fiat currencies lose their value. Today CNBC Crypto Trader Ran Neuner commented that investors are likely to exit local currencies leaving one winner — BTC.
A well-known market analyst Murad added: "They told you Bitcoin can't be money because it's too volatile. In the meantime the centuries old British Pound and Japanese Yen are down -22% and -20% just this year alone."
Crypto markets remain range bound since mid-June and the longer this extends, the more powerful the support becomes. Total capitalization reached $1 trillion again following a 4.4% gain over the past 24 hours.
Bitcoin price analysis
As the crypto market showed the signs of recovery, BTC climbed above the $19,200 resistance zone. The BTC/USD pair even surpassed a major resistance near the $19,500 level to move into a positive zone.
Bitcoin price is now trading above $19,000 and the100 hourly simple moving average. It traded as high as $19,863 and is currently consolidating. The next major resistance sits near the $20,000 zone.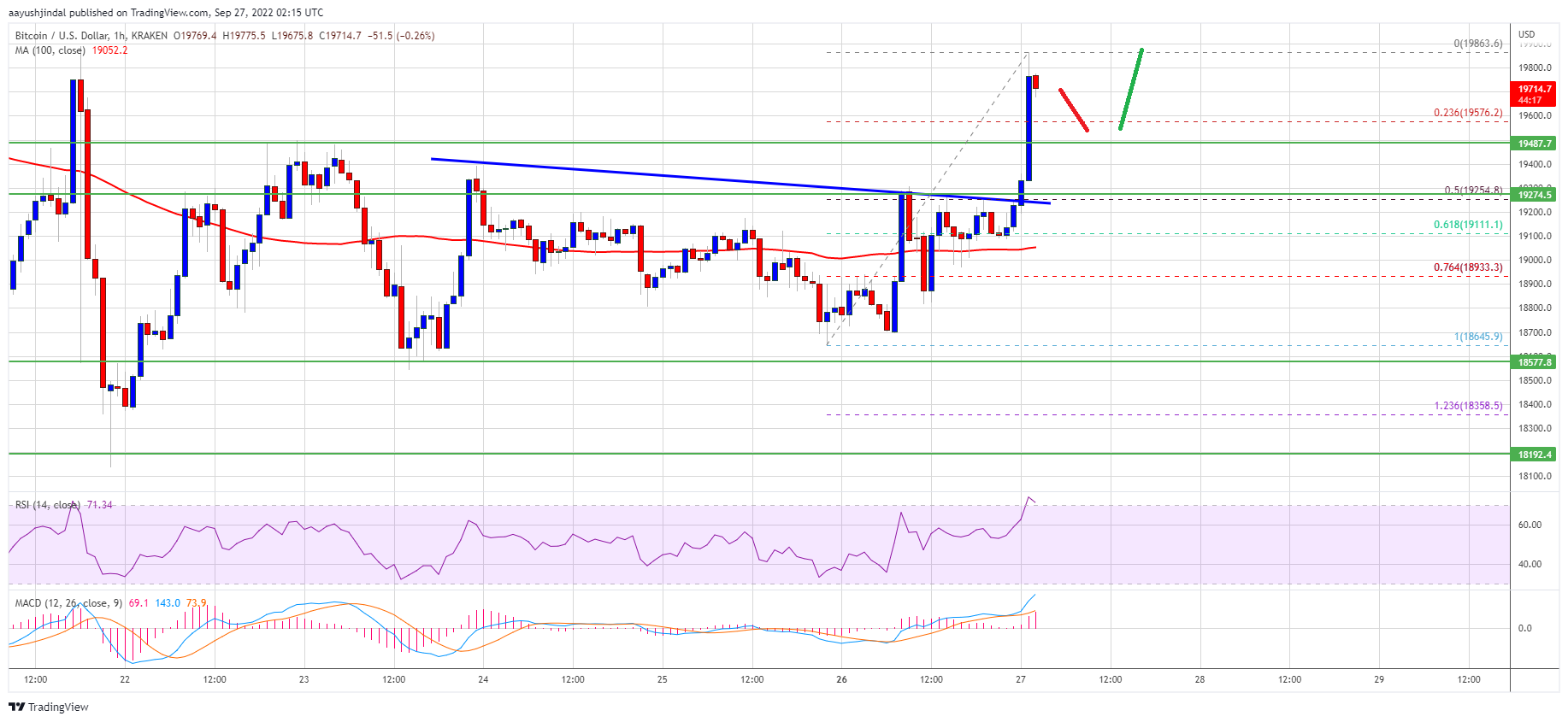 Source:BTCUSD on TradingView.com
A close above the $20,000 level might push the price further into a bullish zone. In the stated case, the price could rise towards $20,500.
If Bitcoin fails to rise above the $20,000 resistance zone, it could correct towards the support near $19,550.
Technicals
Hourly MACD gains pace in the bullish zone
Hourly RSI (Relative Strength Index) is above the 50 level
Major Support Levels – $19,550, $19,000
Major Resistance Levels – $20,000, $20,500
More real time crypto information — in ourTelegram Channelhttps://t.me/Choise_com_Chat