For the past four days, Bitcoin has been hovering between $20,500 and a multi-week low of $19,500 even as theFed's hawkish stanceand soaring inflation in Europe continued to weigh down on investors.Currently, most fundamental metrics continue to suggest short-term weakness for Bitcoin with investors looking for exit liquidity at every available opportunity.
"Bitcoin is barely hanging on" – Glassnode
According to Glassnode "Bitcoin is barely hanging on" with the cryptocurrency's user base performance remaining suppressed."The current Bitcoin user base performance is lacklustre at best, and that price action remains remarkably weak, even as older coin expenditure declines,"Glassnode wrote in its latest weekly newsletter.
According to the report, Bitcoin investors are still stuck in a loss streak-realizing about 220M/ day in net losses. However, the situation has improved compared to recent multi-billion capitulation events.
A quick review ofthe SOPR metricalso shows that things do not look rosy. The SOPR helps users discern the average profit or loss multiple on spent coins. Currently, the Adjusted SOPR remains below the 1.0 value after retesting it and turning south last week. This rejection is also reflected in the mid-august sell-off.
"The recent sell-off was initiated after a convincing underside retest of 1.0 at a time where prices reached above $24k. Rejection from this level largely confirms weakness lay on the road ahead, as investors took the exit liquidity and spent coins around their acquisition cost basis."Glassnode added.
However, the metric has remained in the 0.60 to 0.65 region for several consecutive weeks with long-term holders locking in losses between -35% and -40%. Compared to the -50% peak losses in 2018, this indicates long-term holders are willing to keep their coins in the hope that a move by the SOPR above 1.0 could lead to meaningful recovery by price.
Investors also continue to withdraw theirBitcoins from exchanges, despite prices dropping. According to data from Santiment, the total number of BTC sitting on exchanges is down to just 1.74M marking a systematic decline of over 40% since March 2020. "During downtrends, it is familiar to see long-term hodlers making up a greater percentage of overall supply held." Santiment wrote on Wednesday.
That said, it remains plausible that the crypto market is in its darkest bear phase and that Bitcoin could see a sustained uptick if fundamentals turn green.
Difficulty of mining Bitcoin increased by 9.26%
Approximately $657 million was earned by miners last month, according to statistics gathered byThe Block Research.
In the most recent update published on Wednesday, the mining difficulty for the largest cryptocurrency in the world increased by 9.26% during the previous two weeks, while the hash rate increased by more than 13%.
According to Kevin Zhang, senior vice president of mining strategy at Foundry, which manages the Foundry USA mining pool, the increase in hash rate is caused by "a combination of heat waves finally subsiding (on a global level) and facilities slowly coming online," "There's also the added kicker of the higher efficiency Bitmain S19 XP's finally hitting the market as well!"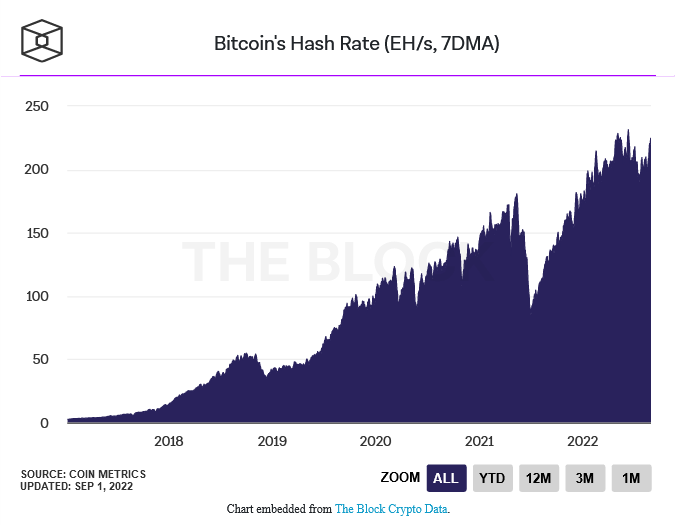 Source: The Block Crypto Data
Only a minor fraction of the pioneer crypto mining profits ($9.24 million) came from transaction fees, with the majority ($647.72 million) coming from the block reward subsidies. Transaction costs for Bitcoin decreased to 1.4% of overall revenue.
The website's analysis reveals that the network's mining difficulty is at its highest point since January, reaching 30.97 trillion, with the hashrate currently averaging around 230 exahashes per second (EH/s).
Last month, Texas miners stopped working in order to support the electrical system and save energy during a heat wave. This action probably made Bitcoin easier to mine.
Weeks later, they turned back on, and as the level of difficulty rises, miners may see their income decline as more computer power (and energy) is required, but the price of Bitcoin has remained stable.
Bitcoin price analysis
Bitcoin price traded in a range andremained well supported above the $19,550 zone. BTC also struggled to clear the $20,500 resistance zone.
Recently, there was a fresh drop below the $20,000 level. However, the bulls were active near the $19,500 zone. A low was formed near $19,560 and the price started a decent increase. There was a move above the $19,800 and $20,000 levels.
Bitcoin price is now trading near the $20,000 level and the 100 hourly simple moving average. There is also a major bearish trend line forming with resistance near $20,200 on the hourly chart of the BTC/USD pair.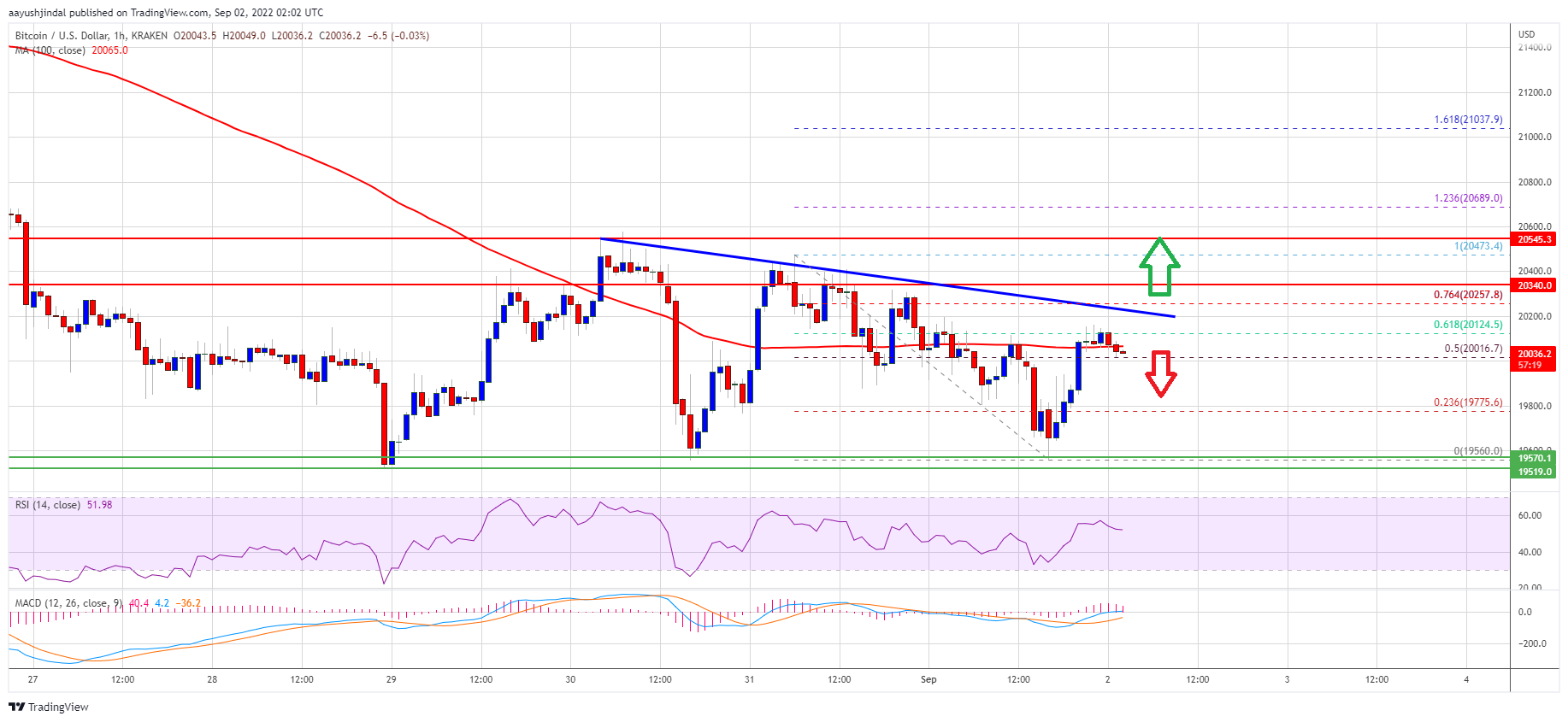 Source: BTCUSD on TradingView.com
The next major resistance sits near the $20,350 and $20,500 levels. The next major support sits near the $19,550 level.
Technical indicators
Hourly MACD – The MACD is now gaining pace in the bullish zone
Hourly RSI (Relative Strength Index) – The RSI for BTC/USD is now above the 50 level
Major Support Levels – $19,850, followed by $19,500
Major Resistance Levels – $20,200, $20,350 and $20,500
More real time crypto information — in ourTelegram Channelhttps://t.me/Choise_com_Chat