The U.S. Federal Reserve announced a 75 basis point hike in interest rates on November 2, 2022, causing crypto and stock markets to tank.
After the hawkish speech by the Federal Reserve chairman Jerome H. Powell, major stock market indexes as well as crypto dropped. Bitcoin tanked 1.33% to $20,230.36, while ETH dropped 4.18% to $1,513.97. Solana was down 5.86% after the news to $30.49.
Buy crypto with zero fee for the first purchasein Choise.com App oropen an interest account to increase your holdings.
Rate predictions
The 0.75% hike to 3.75-4% fell in line with most analysts' predictions, as the Fed acknowledged that it would take some time before its rate hikes would affect the economy.
With its latest announcement, the Federal Reserve has raised interest rates for the sixth consecutive time. Additionally, it is the fourth consecutive time that it has increased rates by 75 basis points, as it looks to tame inflation levels not seen since the 1980s.
There is evidence that the Fed's actions have tamed record inflation levels. Since June 2022, inflation had been steadily decreasing, and as of September 2022, it had cooled down to 8.2%, down from 9.06% in June 2022.
Still the inflation is far from the Fed's 2% target, Powell's disposition seemed to suggest that investors were pre-empting a pause in hikes too quickly.
Powell's speech drew backlash on crypto Twitter. On a crypto note, technical analyst Murfski predicted a sharp downturn for Bitcoin following the Fed announcement.
Bitcoin price analysis
Bitcoin price struggled to gain pace for a move above the$20,650 resistance. BTC reacted to the downside and traded below the $20,400 level after the Fed rate hike of 0.75 bps.
The price declined below the $20,250 support level and traded close to the $20,000 level. A low was formed near $20,059 and the price is now correcting losses. There was a move above the $20,250 level.
BTC is now trading below $20,500. There is also a major bearish trend line forming with resistance near $20,520 on the hourly chart of the BTC/USD pair.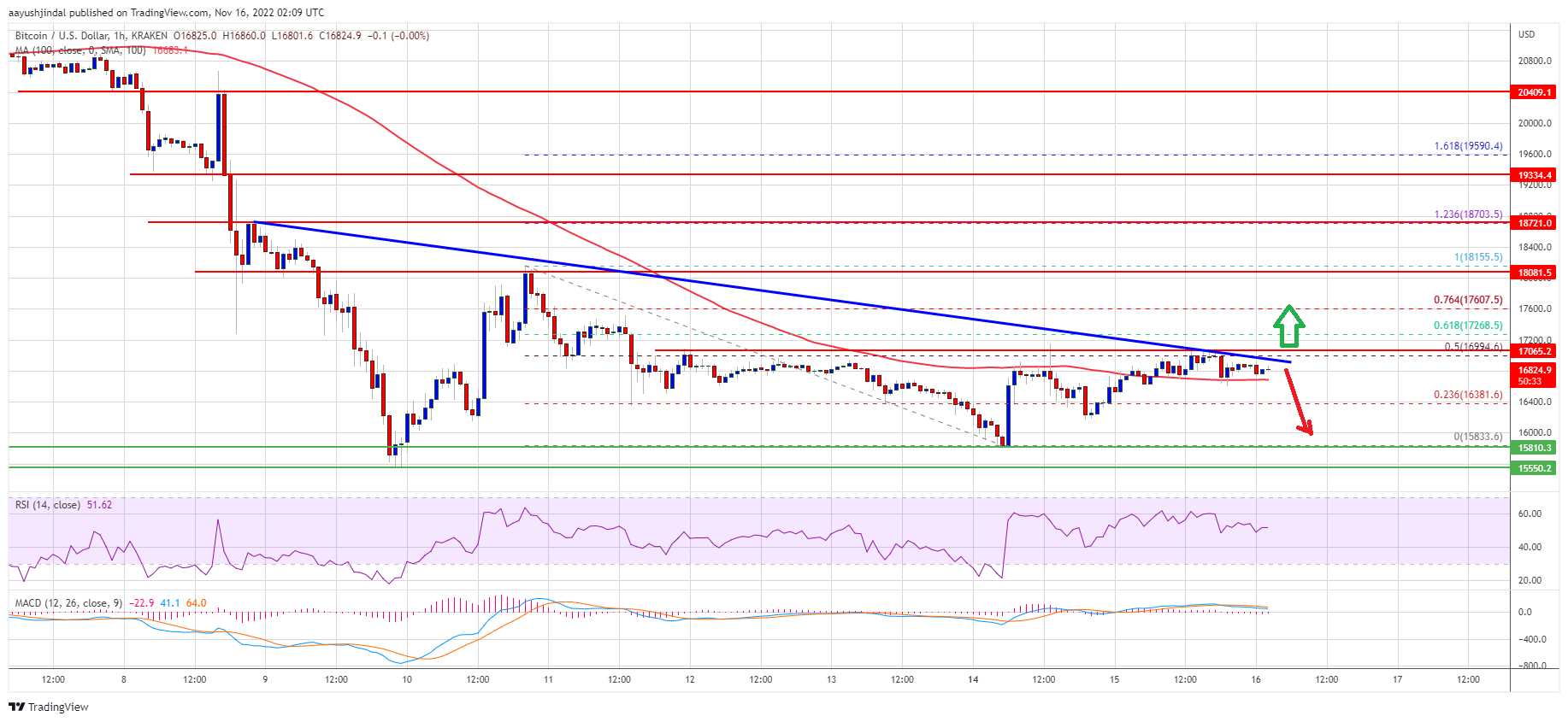 Source:BTCUSD on TradingView.com
Technicals
Hourly MACD gains pace in the bullish zone.
Hourly RSI is now near 50
Support Levels – $20,200, $20,000, $19,200
Resistance Levels – $20,370, $20,450, $20,500, $21,000
Follow Choise.com on CoinMarketCapto stay updated.