Acknowledging that DeFi would soon expand into the retail space, the Federal Reserve Chair, Jerome Powell, called for the regulation of DeFi.
However, he stated that the regulation should be made carefully and thoughtfully, given its impact on the real economy. Policymakers are keen on the regulation of the DeFi space following the collapse of the terraUSD stablecoin.
Significant structural issues
Powell was speaking during the "Opportunities and challenges of the tokenization of finance" event, organized by the Banque de France on September 27.
He said that DeFi suffers from significant structural problems, but that this situation will not persist indefinitely. He added:"There's a real need for more appropriate regulation, so that as DeFi expands and starts to touch more retail customers and that sort of thing, so that appropriate regulation is in place."
Given that the meeting of Banque de France, which is France's central bank, was specifically about the new digital finance, Powell did not just talk about DeFi.He also spoke about stablecoins, saying that in his view these also need regulation, particularly to ensure that they have sufficient reserves to match 1:1 redemptions.
He added that the Fed is still deciding on whether to develop its own digital currency, but that they do not anticipate a decision on that for some time to come. Thus the possible digital dollar seems momentarily shelved, while issues related to DeFi and stablecoins are topical.
In contrast, the "real need" to regulate DeFi that the Fed Chairman alluded to seems like an urgency, probably because the risk of other similar situations is considered possible.
BIS and European Commission raise concerns
Powell's comments followed concerns raised by the Bank of International Settlements (BIS) General manager, Agustin Carstens, who voiced concern about the stark contrast between decentralized finance and traditional finance. Carsten stated that one challenge central banks and regulators face is the borderless nature of crypto and DeFi.
Mairead McGuinness also called for international cooperation in framing new rules for cryptocurrencies and DeFi. McGuinness stated: "Decentralized finance challenges some of the fundamental aspects of the financial system as it currently exists. The [European] Commission is monitoring the developments and risks in this fast-moving area very closely."
Other bankers were far more skeptical of the crypto space and were quite critical, with the Singapore Monetary Authority's Ravi Menon stating that he does not see any redeeming value in cryptocurrencies.
Bitcoin price analysis
Bitcoin price topped near the $20,383 level and started another decline. There was a sharp move below the $20,000 level followed by abreak below a key bullish trend line with support near $19,450 on the hourly chart of the BTC/USD pair.
It is now trading below $19,000 and the100 hourly simple moving average. An immediate support on the downside sits near the $18,600 level, with a bearish angle. On the upside, an immediate resistance is near the $19,000 level.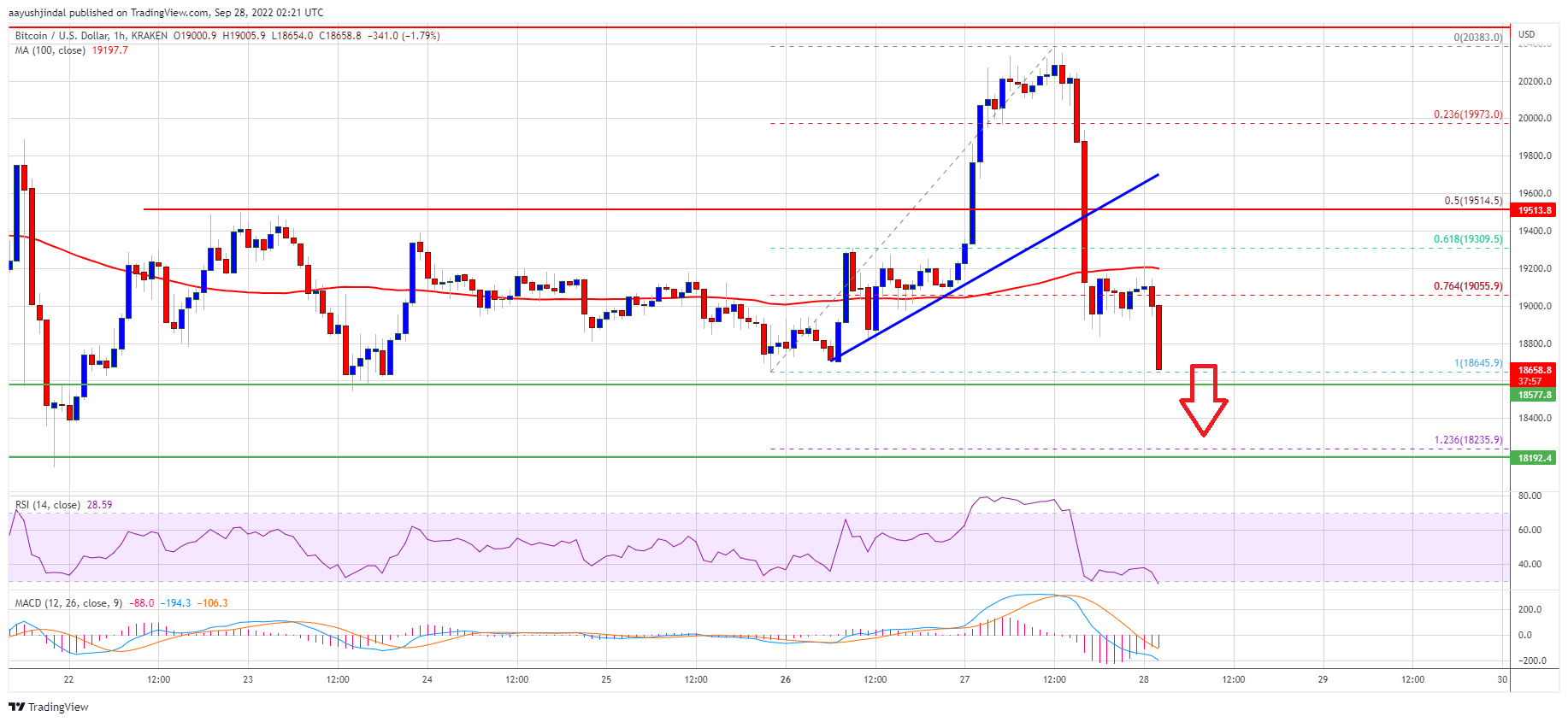 Source:BTCUSD on TradingView.com
Technicals
Hourly MACD is gaining pace in the bearish zone
Hourly RSI is below the 50 level
Major Support Levels – $18,500, $18,250
Major Resistance Levels – $19,000, $19,200
More real time crypto information — in ourTelegram Channelhttps://t.me/Choise_com_Chat