The crypto market is dependent on macroeconomic factors. Moreover, the Federal Reserve's hawkish stance is impacting the crypto market more than anything else. The Fed is engaging in interest rate hikes and quantitative tightening to curb soaring inflation levels. The central bank decided on four consecutive interest rate hikes of 75 bps. Key Fed officials have made it clear that the bank is not yet done with its restrictive monetary policy.
The drawback of the Fed's hawkish stance is the global economic slowdown. The World Bank claims that the global economy will suffer from a recession in 2023. Similarly, the UN asked central banks to pivot from their hawkish stance to prevent an impending recession. Moreover, JP Morgan CEO Jamie Dimon stated yesterday that the economy will face a recession in 6-9 months.
Elon Musk of Tesla and Cathie Wood of Ark Invests state that the US economy is on the verge of deflation. Deflation is a period when the prices of commodities and services go down. Many experts also believe that the economy is staring stagflation. Stagflation is possibly the worst possible outcome of the Fed's stance.
While some market participants hoped that the Fed may pivot due to the threats to global financial instability, the Fed clearly believes that it will prefer overdoing its restrictive policy-making than pivoting too early.
Despite the continuance of the Fed's hawkish stance, some experts are noting the slightshift in the Fed's tone. Kathy Jones of Schwab Centre For Policy Research claims that even the small reference to recalibrate the monetary policy is significant. She also claims that the Fed did acknowledge the potential spillover from its restrictive stance.
Ethereum price analysis
Ethereum started a minor upside correction from the $1,265 support zone. Ether price even attempted to move above the $1,300 resistance zone and the 100 hourly simple moving average.
However, the bulls failed to gain strength for a close above $1,300. Theprice failed to clear the 50% Fib retracement level of the downward move from $1,338 to $1,268.
There was a fresh decline from $1,300. Besides, there was a break below a key rising channel with support at $1,290 on the hourly chart of ETH/USD. The pair is now trading below $1,300 and the 100 hourly simple moving average.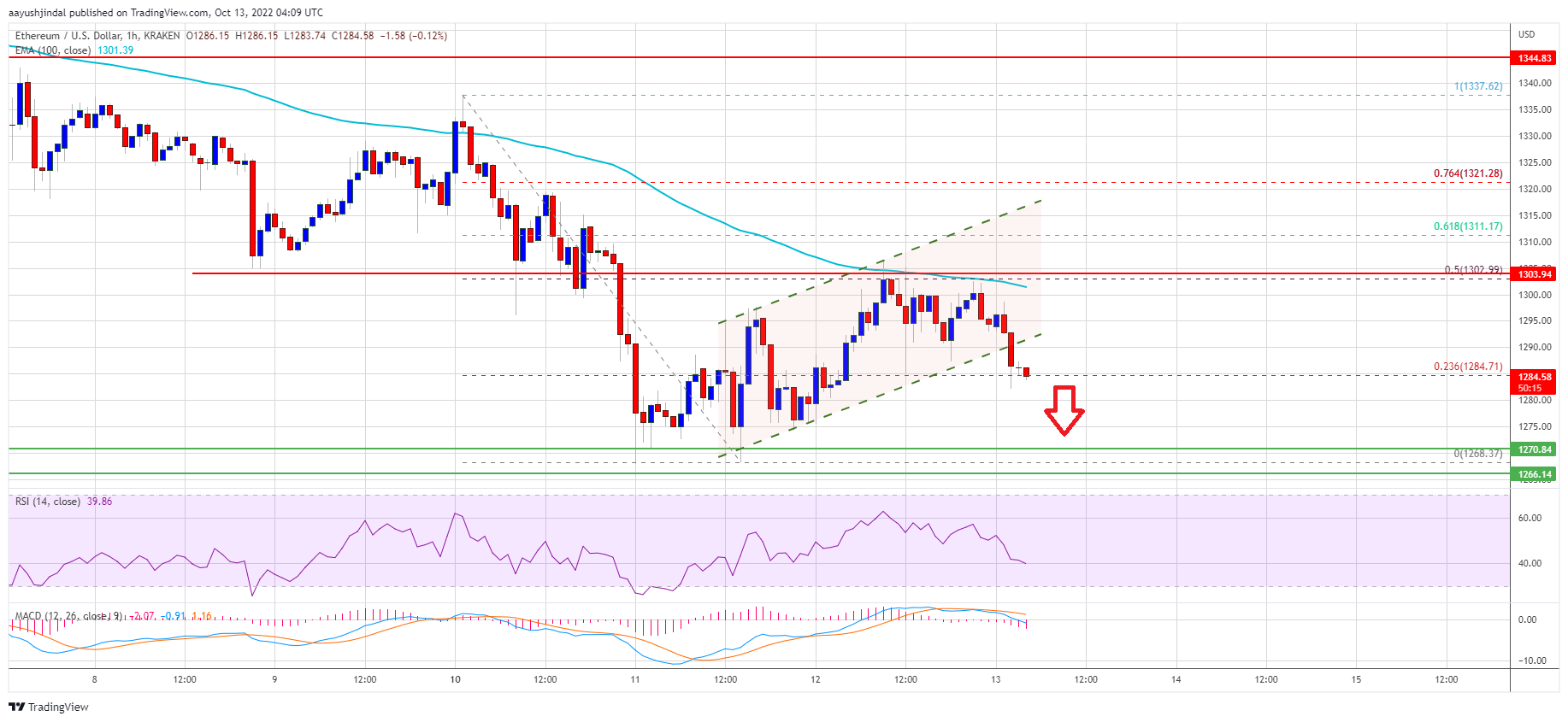 Source:ETHUSD on TradingView.com
If ETH fails to recover above the $1,300 resistance, it could continue to move down. An initial support on the downside is near the $1,275 level. The next major support is near the $1,265 level.
Technicals
Hourly MACD is gaining momentum in the bearish zone
Hourly RSI is below 50
Support Level – $1,265
Resistance Level – $1,300
More real time crypto information — in ourTelegram Channelhttps://t.me/Choise_com_Chat