JP Morgan shared its outlook on the current crypto market. According to one of the leading financial services institutions globally, several adverse events form the current bearish trend, including U.S. 40-year record inflation rate, the Ukraine conflict, the EU energy crisis, etc.
This bearish crypto market had negative effect on investors and traders, as well as companies. Global Head of Payments at JPMorgan Chase & Co Takis Georgakopoulos in his interview to Bloomberg cited that the company's clients were eager to use cryptocurrencies as a means of payment six months ago. Now he stated the loss of interest.
At that time, BTC was trading at about $40K, Ether was also doing well compared to the present look of the market. The crypto winter started in the middle of 2022, significantly changing the global macroeconomic environment. This became the major cause of the decline in the cryptocurrency interest of the company's clients.
Georgakopoulos encouraged other clients stating that the company would continue its crypto services regardless of the current market situation. It wants to hire a leader to identify and gain more payment opportunities in the Metaverse, Crypto, and Web 3 sub-vertical. The bank also needs tech-savvy individuals and financial specialists to carry out the potential tasks to achieve its goal.
Current market outlook
Bitcoin price actionhas been ultra volatile before and after the United States Federal Reserve announced its decision to increase rates by 75 basis points. Although the market had been considering as much as a 100 basis points increase from the increasingly hawkish Fed, the central bank ultimately chose a slightly softer touch.
Fed Chair Jerome Powell expects rate increase to continue well into next year, with inflation not returning to the normal 2% rate until at least 2025.
Bitcoin price analysis
Bitcoin price attempted to gain strength above the $19,200 level, but failed. The Fed rate hike from 2.75% to 3.25% triggered a decline. There was a break below a key bullish trend line with support near $19,000 on the hourly chart of the BTC/USD pair.
Bitcoin price is now trading below $19,200 and the100 hourly simple moving average. There was a retest of the $18,200 level and the price dipped as low as $18,140. It is now consolidating losses above the $18,200 support zone.
On the upside, the next major resistance sits near $19,000. The resistance is also forming near the $19,200 zone and the 100 hourly simple moving average.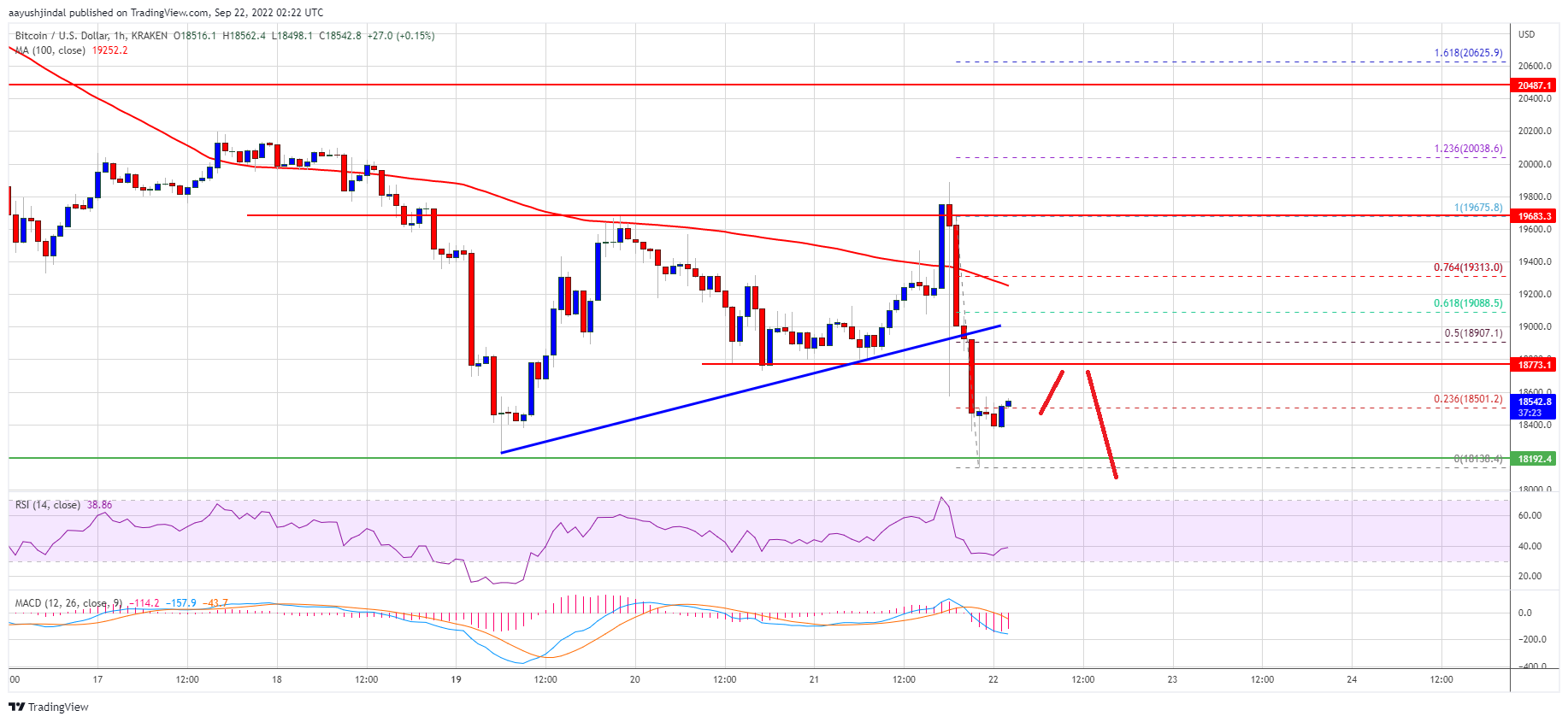 Source: BTCUSD on TradingView.com
Technical indicators
Hourly MACD looses pace in the bearish zone
Hourly RSI is below 50
Major Support Levels – $18,200, $18,000
Major Resistance Levels – $19,000, $19,200
More real time crypto information — in ourTelegram Channelhttps://t.me/Choise_com_Chat