As per its latest earnings reports, Tesla made no changes to its Bitcoin holdings in the third quarter of 2022. The company did not sell any more of its BTC holdings after doing so in the second quarter, and neither did it purchase new BTC. The value of these digital holdings at the end of the second quarter was $218 million, and it continued to remain so, as per the report, even after the third quarter. Since the price of BTC has continued to hover around the $20,000 mark after both quarters, the total value of the company's holdings has not changed either.
Q2 BTC sell-off
The company used to hold a much more significant amount of Bitcoin; however, it got rid of most of it through a significant sell-off in the second quarter.
In fact, the company sold a whopping $936 million worth of Bitcoin in the previous quarter, thus getting rid of roughly 75% of its total Bitcoin holdings. Before the sell-off, the company held a BTC reserve worth $1.26 billion. The company also claimed that the sale brought in $64 million of profits, offset by impairment charges of $170 million and a net cost of $106 million on its profit and loss statement. The purpose behind the sell-off was to raise cash.
After the last sell-off, CEO Elon Musk claimed that the uncertainty in China due to COVID lockdowns had affected the company's business and was a key reason behind the sale. He said, "It was important for us to maximize our cash position, given the uncertainty of COVID lockdowns in China."
Tesla may increase BTC holdings
He also stated that Tesla could potentially increase its Bitcoin holdings in the future. However, the decision to expand the reserves was not made in the latest quarter, as revealed by the Q3 earnings report. Furthermore, he had also requested the public not to read too deeply into the sell-off as a verdict on the potential of Bitcoin.
Increase your Bitcoin holdings right now. Buy BTC with zero fee for the first purchasein Choise.com App oropen an interest account in BTC to receive interest while just HODLing.
Bitcoin price analysis
Bitcoin price started aslow decline from just above the $19,500 resistance zone. BTC declined below the $19,250 and $19,200 support levels to move into a short-term bearish zone.
The bears even pushed the price below the $19,000 level and there was a close below the 100 hourly simple moving average. The price traded as low as $18,900 and is currently correcting higher.
Bitcoin price is now trading below $19,200and the 100 hourly simple moving average. There is also a key bearish trend line forming with resistance near $19,180 on the hourly chart of the BTC/USD pair.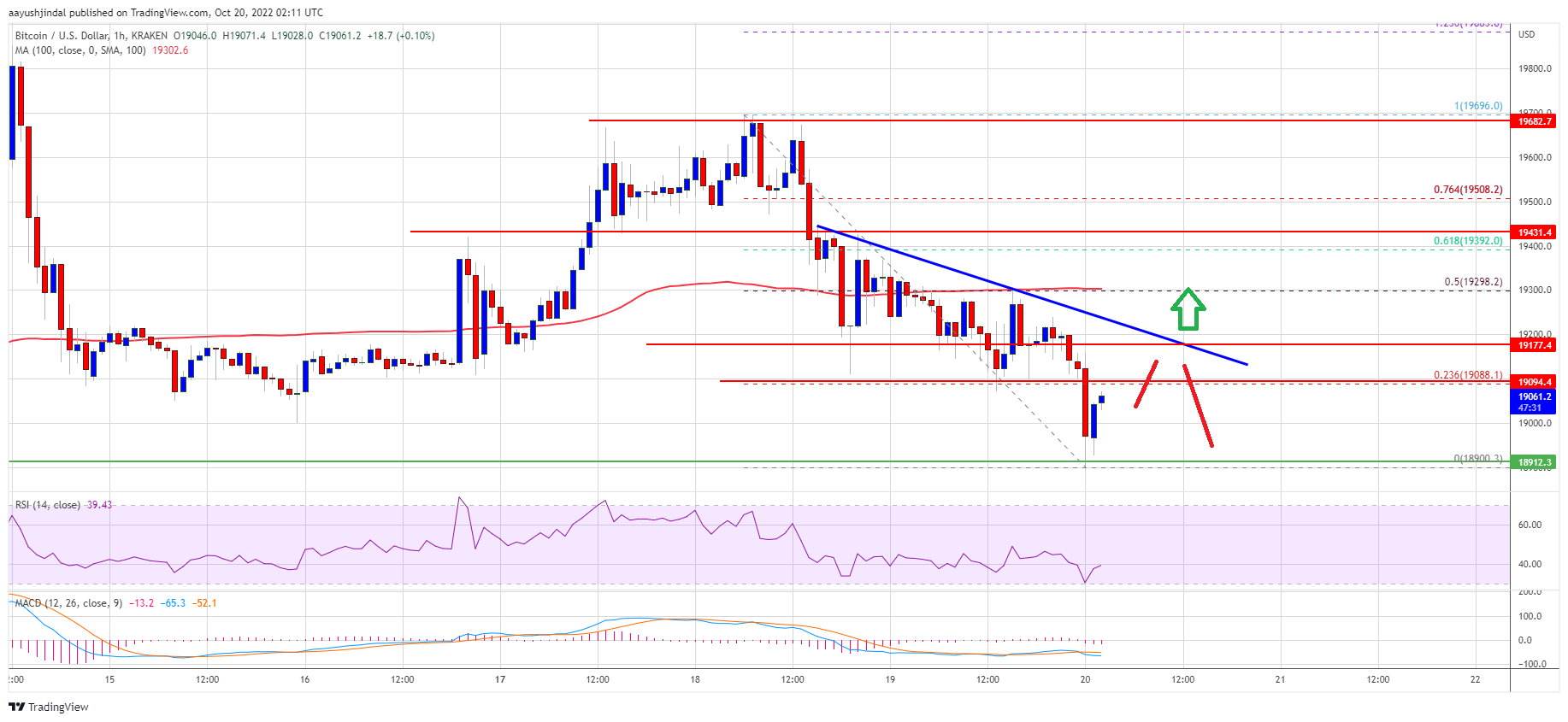 Source:BTCUSD on TradingView.com
Technicals
Hourly MACD is losing pace in the bearish zone
Hourly RSI is below the 50 level
Support Levels – $19,000, $18,900
Resistance Levels – $19,200, $19,300, $19,500
More real time crypto information — in ourTelegram Channelhttps://t.me/Choise_com_Chat