Twitter is reportedly working on a wallet prototype to support crypto deposits and withdrawals, announced software engineer Jane Machung Wong on her Twitter. The project is reportedly under development.
Twitter has not acknowledged reports about a cryptocurrency wallet being in the works. It also needs to clarify how or where Wong sourced her information. However, looking at other reports and statements by Wong, she sources most of her information from publicly available code.
Twitter's wallet prototype
Earlier in September 2021, Twitter rolled out a new feature that allowed users to add links to select third-party payment services to its Twitter profile. The new feature enables users to link a third-party payment service and post their Bitcoin (BTC) or Ethereum (ETH) wallets to their accounts, allowing followers and supporters to tip in those cryptos.
Notably, users must create and maintain their own wallets and addresses in order to use this service. At first, Bitcoin was compatible with the functionality. Later, Twitter expanded the functionality to include NFTs and Ethereum addresses.
One of the most crypto-friendly platforms
Jack Dorsey founded Twitter to become one of the most crypto-friendly platforms in the world, alongside other major social media platforms such as Reddit and Instagram. Dorsey promoted the use of several features, enabling users to link their crypto wallets to their Twitter profiles. However, this feature required that users create and manage their own crypto wallets and addresses.
Initially, this feature was compatible only with Bitcoin but was later extended to include NFTs and Ethereum addresses. Musk had also considered using crypto micropayments to acquire the platform to prevent spam transactions during talks.
Project BlueSky
The recent announcement has been linked to the launch of Twitter's decentralized social media platform BlueSky, which launched its beta app last Tuesday. Jay Graber, the CEO of BlueSky, has highlighted that the platform would not have crypto features. He clarified, "I'm confident in our decision to not put social media content on a blockchain."
The team behind BlueSky is working on a social media solution designed to allow such platforms to operate beyond the structure and limitations of a traditional company. Instead, they will adopt the values of cryptocurrencies, such as decentralization and transparency.
Ethereum price analysis
Ethereum gained pace after it broke the$1,300, $1,320 and even $1,350 resistance levels. ETH settled above the 100 hourly simple moving average. However, the price failed to clear the $1,370 level. A high was formed near $1,370 before there was a downside correction.
It is now trading above $1,320 and the100 hourly simple moving average. There is also a key contracting triangle forming with resistance near $1,350 on the hourly chart of ETH/USD.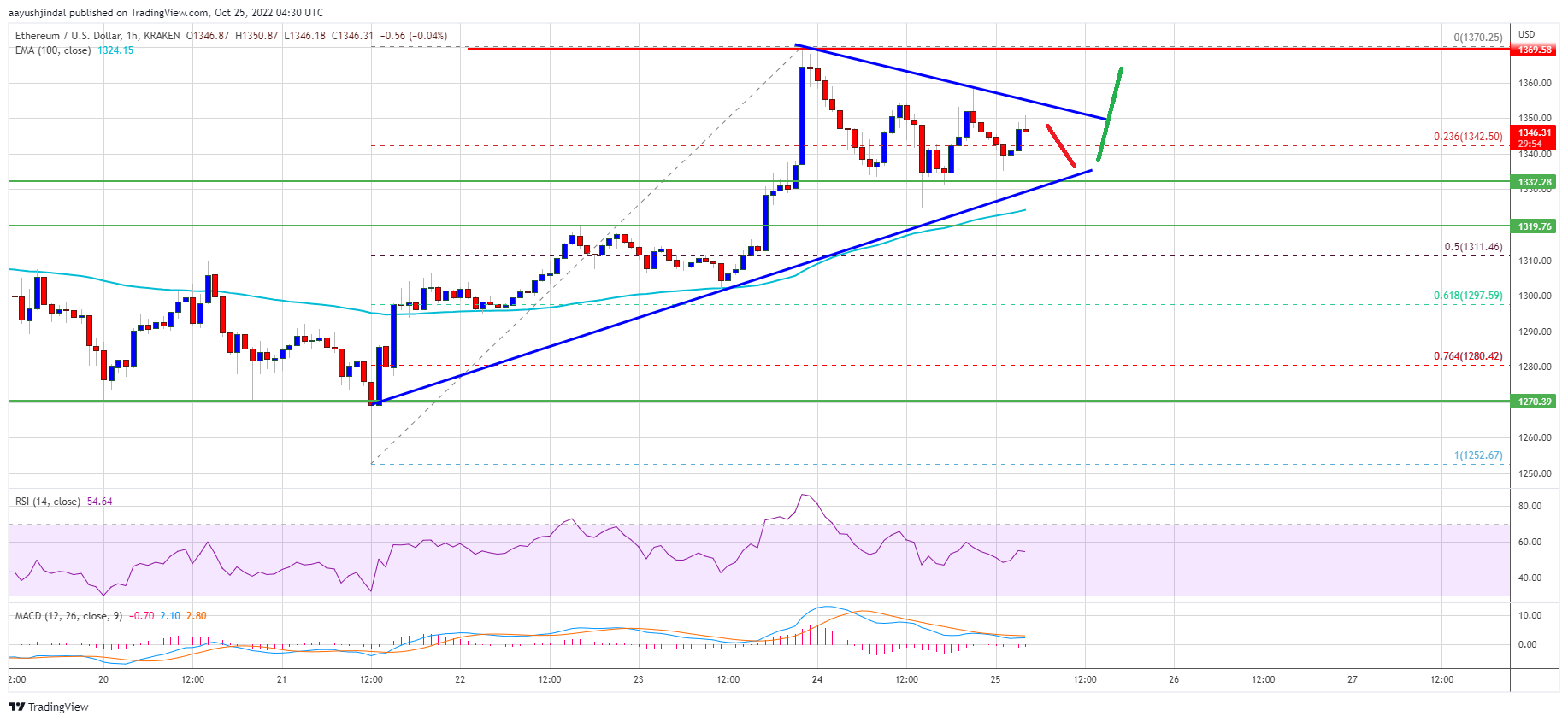 Source:ETHUSD on TradingView.com
Add ETH to your portfolio. Buy Ethereum with zero fee for the first purchasein Choise.com App oropen an interest account in ETH before promo interest rates go down.
Technicals
Hourly MACD is now losing momentum in the bullish zone
Hourly RSI is above 50
Support Levels – $1,320, $1,310, $1,300, $1,270
Resistance Levels – $1,370, $1,350, $1,400, $1,500
Follow Choise.com on CoinMarketCapto stay updated.