Bitcoin will reach $25,500 by May 2020, says cryptocurrency market analyst Jonathan Morgan. The date corresponds with the halvening event, in which the block reward of the Bitcoin blockchain will be reduced by 50%, from 12.5 BTC to 6.25 BTC.
Morgan predicted the price using the Elliot Wave Principle, Fibonacci extensions, and retracement levels. The Elliot wave principle is a tool used in technical analysis to predict major market trends, which are based on the psychology of investors, including other factors. Additionally, the principle can also be used to predict both minor and major market swings.
The analyst stated that traders with high expertise can use the Elliot wave principle to predict 'creepily accurate' results by figuring out the possible price zones and their retracement levels. When Morgan applied the principle himself, he found a confluence between the top of the Bitcoin market in December 2017 and the bottom of the market in December 2018. When compared, he realized that the shifts in market price also led to the sudden high price of the crypto market in June this year.
Based on the previous market data, he predicted a future price point for Bitcoin which he stated that it would be $25,500 by May next year. However, his technical analysis showed that Bitcoin would reach a price point of around $6,580 before it would reach a new record high. Morgan believes that the new bottom would happen around the end of October or the start of November.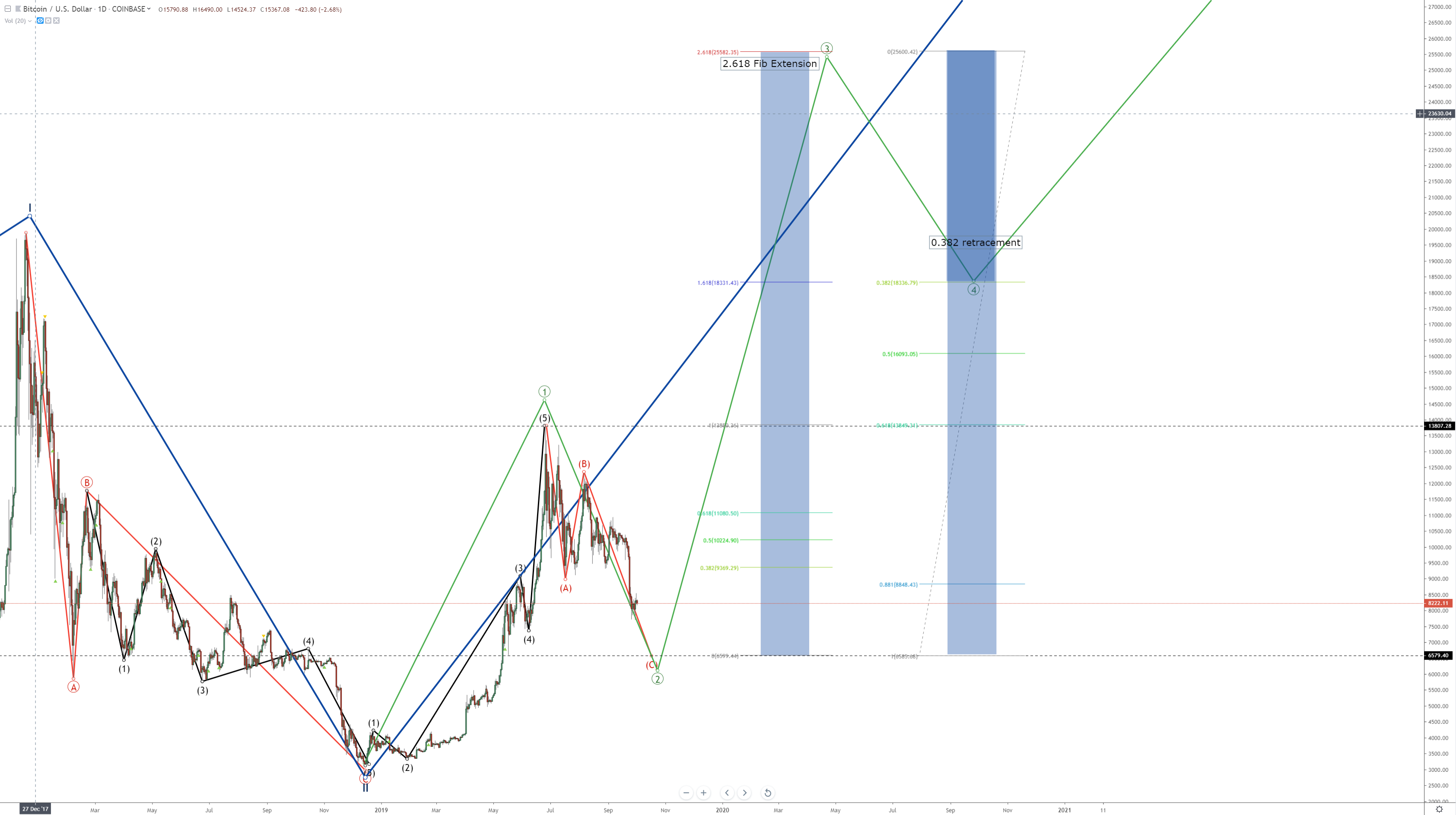 To predict the new record high of Bitcoin's price, the analyst applied the Gann Theory, which is one of the most powerful tools used by traders to predict prices and price patterns in traditional stock trading. The new price is based on the recent price high in June and the predicted new low of $6,580 in the coming month. By drawing a Fibonacci extension on these two key areas, the result is a value of around $25,500 by May 2020.
Morgan has also pointed out that the price range of $18,331 will be more active than previous resistance levels, and that Bitcoin's price is likely to swiftly reach the target of $25,500. Additionally, he believes that we could meet with a 38.2% retracement, which would result in a support level of $18,000. After that, we can expect a new record high of 35,000.
While the current state of the crypto market provides a bearish sentiment, a significant part believes that the block reward halvening set to occur in May next year will result in a new bull run. When looking at the historical price movements, Bitcoin has successfully moved upward each time the event would occur.